LG Pay "White Card" to be first to have integrated circuit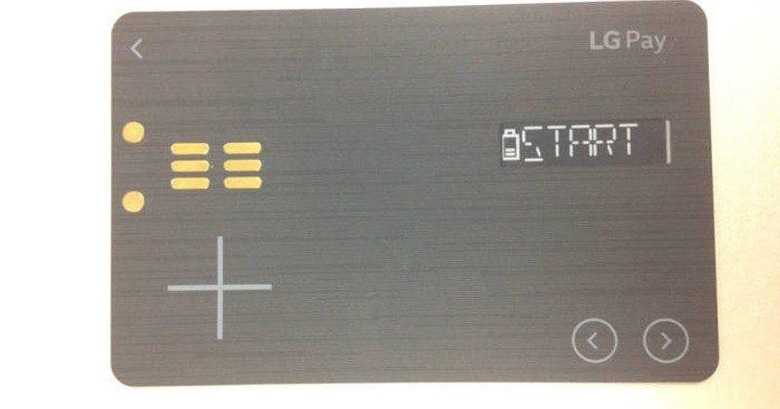 By the time LG Pay fully launches later this year, it will probably the youngest and smallest in the still budding mobile payments market. However, it could come with an ace that will, at least in theory, trump even giants like Apple Pay and Samsung Pay. Already leaked before was the "White Card" that will be used with LG Pay, practically a programmable card that can be used on traditional terminals. This would be the first time an integrated circuit or IC will be used in a card for a mobile payment system.
In truth, the concept isn't actually new. There have been other attempts at using the same plastic cards that are familiar to consumers with an added benefit: they can be programmed or reprogrammed to hold different bank details inside, which required the presence of a programmable chip inside. Very few, almost none, of those have actually made it to the wider market. LG's adoption of the technology could make it main stream and give it a differentiating factor over its biggest rivals.
LG will be facing an uphill battle to set itself apart from Apple Pay and especially Samsung Pay, which has had a head start in its home turf. Neither of those two, however, make use of a card at all. Apple Pay relies completely on NFC while Samsung Pay uses both NFC and, for some smartphone models, MST-based technology acquired from LoopPay. LG Pay's White Card, however, will supposedly bridge the gap between those two extremes.
LG Pay will support not only purchases but even ATM transactions for machines that support cash cards. The company has already made partnerships with South Korea's KB Bank and Shinhan Card, and has reportedly also signed contracts with Lotte Card, Hana Card, BC Card, NH Card, and other major card companies. LG Pay is expected to launch in full in September and, at least for now, is solely focused on the South Korean market.
VIA: ET News