LG outs massive hi-res monitors, laptop to woo gamers, creatives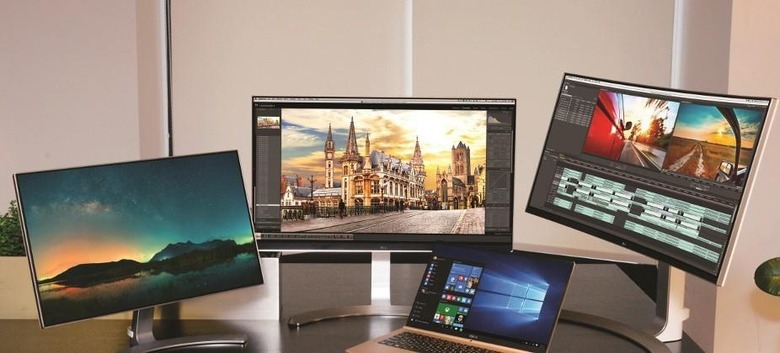 CES 2016 is just around the corner, which means we are on the verge of seeing the latest innovations, and even crazy experiments, in the world of consumer electronics. Like it's custom, LG is pre-announcing what it has in store, leaving more time to just play around with its latest toys. For this round, it is revealing a few new monitors and, amusingly, a laptop to entice gamers and professionals with their ultrawide sizes, 4K resolutions, and lightweight builds.
At the very top of this long list is the LG 34UC98, a large 34-inch curved screen that boats of both a UltraWide 21:9 aspect ratio as well as a high resolution of 3440x1440 QHD. Images are delivered by a fast and reliable Thunderbolt 2 connection, making it a great match for creative professionals who need fast and pixel perfect results.
Although that one is already something gamers might want to get their hands on, the curved 34-inch UltraWide QHD 34UC88 monitor and the flat 27-inch Ultra HD 4K 27UD68 might impress even more, as both monitors make use of AMD's FreeSync technology to drive away tears and lags, the number one gaming killers.
The 27-inch 27UD88, also with a UHD 4K resolution, has a special talent aside from its stunning display. It has uses a USB Type-C for its connection. This means that a laptop can not only connect to the monitor for an external display, it can also draw power from the monitor itself, eliminating the need for a power cord when connected to it.
The rather odd duck in this batch is the LG gram 15, formally the 15Z960, primarily because unlike the others, it isn't a monitor. Instead, it is a laptop with an equally incredible claim. Though almost the size of a 14-inch notebook, the LG gram laptop boasts of a screen size of 15.6 inches. And it's lightweight to boot at only 980 grams.
Curious? LG will be spilling all the details come CES next month so be on the look out for our coverage.