LG: Optimus tablet "better than the iPad"; 10 new phones in 2H 2010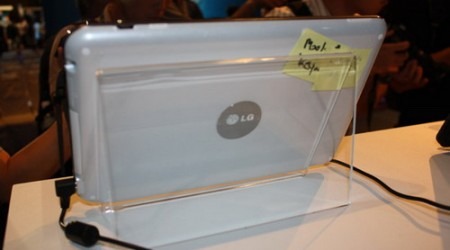 Brave words from LG this week, with the company pledging not only to launch 10 new smartphone models by the end of 2010, but promising that its upcoming tablet will "be better than the iPad."  Speaking to the Wall Street Journal, vice president of marketing for LG mobile devices Chang Ma revealed that an Optimus-branded tablet is planned for release in Q4 this year, with "high-end features and new benefits"; the unnamed slate will also have a focus on content creation rather than consumption, with support for document writing, video editing and even coding.
Ma describes it as "surprisingly productive" and points to the iPad's focus on content consumption as one of its key drawbacks.  LG sees the US market as most important for the tablet, but will not confirm any wireless carrier involvement such as Apple has with AT&T.
The company has already committed to releasing a smartphone based on NVIDIA's Tegra 2 chipset in Q4 2010.  That will be one of ten new devices by year's end, in LG's attempt to grab a 5m unit share of the market, followed by an LTE-capable device in early 2011.
[via GottaBeMobile]