LG Optimus L9 Review (T-Mobile)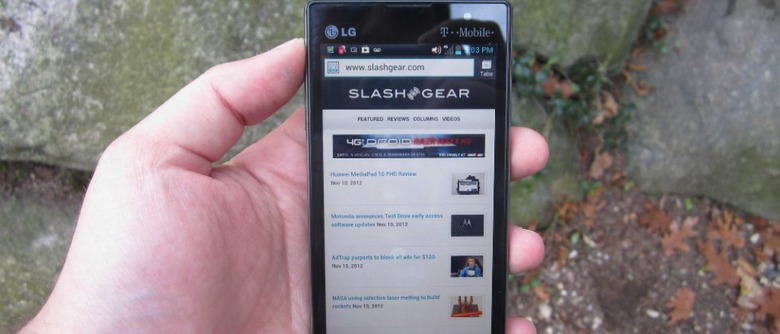 Most of us know that when it comes to smartphones, it's a constant struggle to find the right balance between power, looks, and affordability, with affordability normally losing out in the end. The problem most of the time is that the affordable phones don't always look the best and typically don't have the best hardware under the hood. If you want a phone that looks sleek and performs great, you're going to have to shell out the big bucks, right? LG is attempting to challenge that idea with the Optimus L9, a new handset at T-Mobile that comes with the very manageable price tag of $79.99. The question is: can this phone deliver the goods at a budget price, or do the savings mean that the phone ultimately disappoints in other areas?
Hardware
It's strange, the mentality one quickly falls into when it comes to budget handsets. The expectation with inexpensive phones is that they aren't going to be anything to write home about from both a cosmetic and a hardware perspective. It would be shady of me not to mention that I wasn't expecting much when I learned I was getting the Optimus L9 in to review – I expected another cheap handset that didn't perform very well and left me wanting when it came to looks.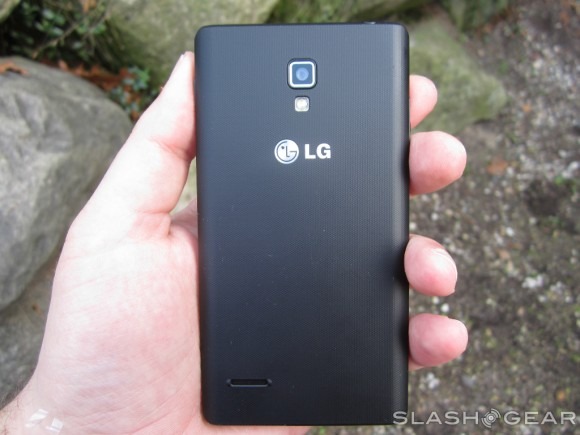 Image my surprise, then, when I opened up the box and was greeted by a phone that's actually pretty sexy. The Optimus L9 certainly has a lot going for it in the looks department – not only is it a sleek device with its black chassis and silver trim, but it's thin and lightweight to boot. At just 0.36-inches thick, it definitely isn't the slimmest smartphone we've seen, but it's thin enough. The phone also weighs in a just a hair over 4.4 ounces, and it feels very light in the hand. I was surprised when I was picked it up for the first time, and immediately grabbed my girlfriend's iPhone 4S and my Atrix HD to compare. The Atrix HD and the iPhone 4S both come in right around 4.8 ounces, and though that isn't much more than the Optimus L9, the difference in weight in certainly noticeable.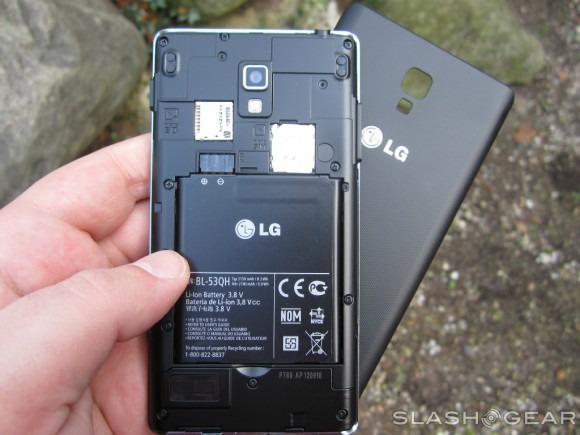 Typically a lightweight and thin design would lend to a fragile feeling, but not with the Optimus L9. It feels like a well-constructed device, and though I'm not willing to begin hurling it across the room, it does feel like it can take a bump or two. There's also Gorilla Glass 2 covering the display, so it should stand up pretty well against scratches.
Speaking of the display, you'll be working with a 4.5-inch IPS LCD display that's running at qHD resolution. That means 960x540, so no, you don't have an HD display to boast about. That's okay though, because the display on the Optimus L9 is still colorful, sharp, and surprisingly bright. Before I began my battery test (more on that later), I went to turn the display down to 50% brightness, only to discover it was already there. Cranking it up to 100% results in a display that's very bright, so 50% should be sufficient for most and serves to conserve battery life at the same time.
Underneath the screen are a set of soft buttons – a back button and a menu button – with a physical home button placed in between them. I'm a sucker for physical buttons, and I think that the home button helps make the Optimus L9 look even better. On the top of the device, there's a 3.5mm headphone jack, with the power button on the right side and the volume button on the left. On the bottom is where you'll find the micro USB port. On the back is where the speaker and camera have taken up residence, while the microSD slot has been tucked away behind the removable backing. It isn't the most convenient place for it, but hey, at least LG included one.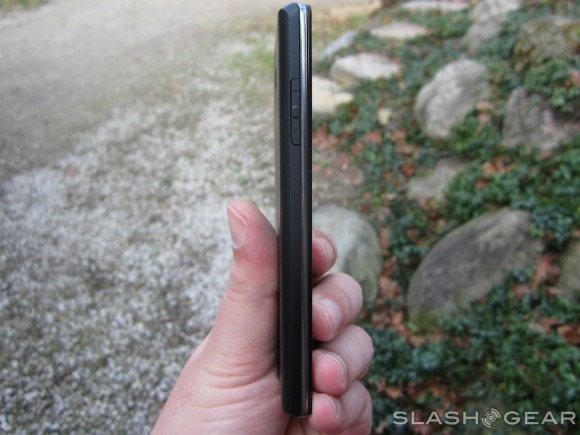 On the inside, we've got a dual-core Texas Instruments OMAP 4430 processor clocked a 1GHz. That's working alongside 1GB of RAM, and while that may not sound like much power, it's actually enough to keep the Optimus L9 running smooth. Swiping through home screens and the apps menu is fluid and lag-free, so you probably won't notice the fact that your Optimus L9 is using aging hardware all that often. Sadly, there's only a rather pitiful 4GB of storage, which in reality is about 1.6GB after the pre-installed apps and operating system are accounted for. In other words, you might want to buy a microSD card alongside your Optimus L9, as it won't be long before you run out storage.
Software
Starting right off with the operating system, the Optimus L9 is running Android 4.0.4 Ice Cream Sandwich out of the box, so I suppose it was a bit too much to hope for an Android 4.1 install. In any case, Ice Cream Sandwich functions well enough, though it's covered up by LG's own interface. Thankfully, that custom interface doesn't seem to slow anything down, and I actually like the look of it, so I see no need to complain.
T-Mobile, naturally, has included plenty of pre-installed software, and you're probably not going to use most of what comes pre-installed. You've got things like WildTangent Games, Lookout Security, More for Me, Slacker Radio, and T-Mobile TV alongside Google's typical suite of apps, and T-Mobile has packed the home screens full of widgets and shortcuts, so you'll definitely want to do some rearranging once you get your Optimus L9 out of the box. Sadly, you can't delete most of the apps that come pre-installed, so allow me to take this moment to stress once again that you'll want a microSD card.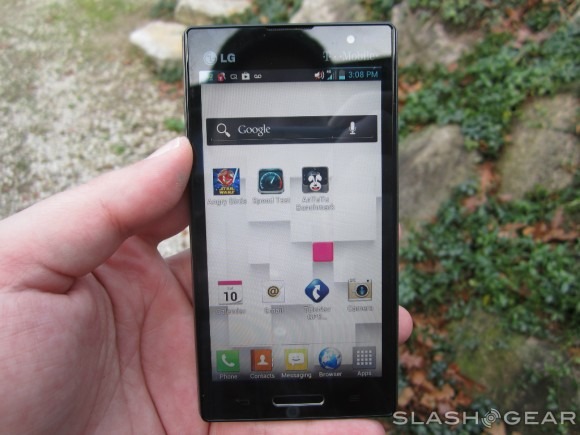 Keyboards on mobile phones are typically a crapshoot, but I'm pleased to say that the one on the Optimus L9 works pretty well when you're using it in landscape mode. Portrait mode will likely be another issue, and the smaller amount of space will probably lead to more typos. T-Mobile and LG have also included their own version of gesture typing, and while it works, I think I'd rather stick with just punching in each letter individually. That's because the word that was selected for me usually wasn't the word I had just attempted to type, but it's worth pointing out that the word I was shooting for was in the list of words that the system suggested for me most of the time.
The Optimus L9 also features gesture zooming, which is pulled off by sliding the browser menu up while you're looking at a webpage, holding down to the zoom button, and then tilting the phone to zoom in and zoom out. Like gesture typing, it works, but I feel like you'll have more accuracy if you're just doing pinch-to-zoom instead. They're neat little features, don't get me wrong, but I think regular typing and pinch-to-zoom will suffice for most folks.
Battery
The Optimus L9 comes packing a relatively beefy 2,150mAh battery, and the phone seems to do a good job rationing out its power. It took quite a bit of game playing and video watching to get the battery to dip down below 50%, and even with the screen brightness at 50% (remember, I said earlier that 50% brightness is still quite bright) and Wi-Fi connected all the time, the battery still didn't drain as quickly as I was expecting it to.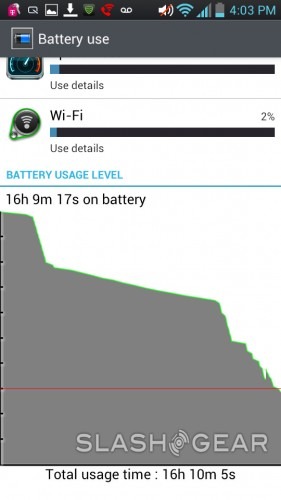 Leaving it connected to the Internet – be it T-Mobile's mobile data network or my own Wi-Fi connection – while the phone was asleep didn't do much to drain the battery either. You won't have a problem getting a full day of use out of a full charge, and if you're not the type who's on their phone constantly, you might even have enough juice left over to make it through a second day.
It's also worth pointing out that the battery is indeed removable, which should be a big win for some folks. As far as I'm concerned, the battery that comes packed in the Optimus L9 is good enough, but if, like all batteries, it begins to have issues holding a charge as time goes on, you'll be able to swap it out for a new one.
Camera
The Optimus L9 features a rear-facing 5-megapixel camera and a front-facing 1.3-megapixel shooter. The 1.3-megapixel camera will obviously only do for video chatting, but the 5MP rear camera is decent for taking pictures. As with most 5-megapixel cameras, the images aren't the best, and I'd suggest using an actual camera for taking photos as opposed to the camera on the L9.

The L9's camera also features a panoramic mode, and while that's pretty cool, again the quality of the images isn't any to write home about. Have a look at the sample shots I took to get an idea of what I'm talking about.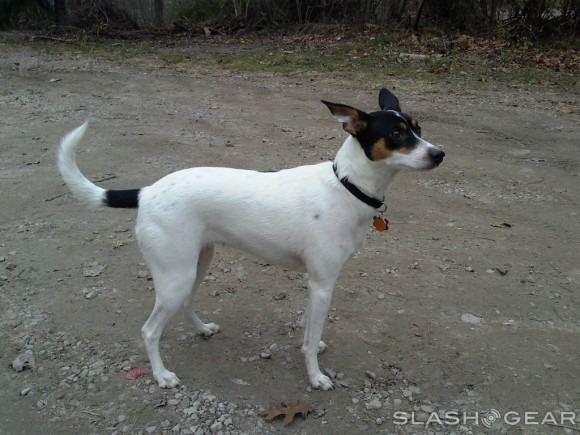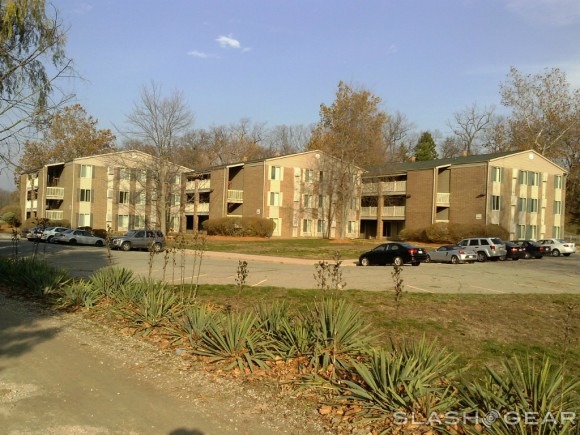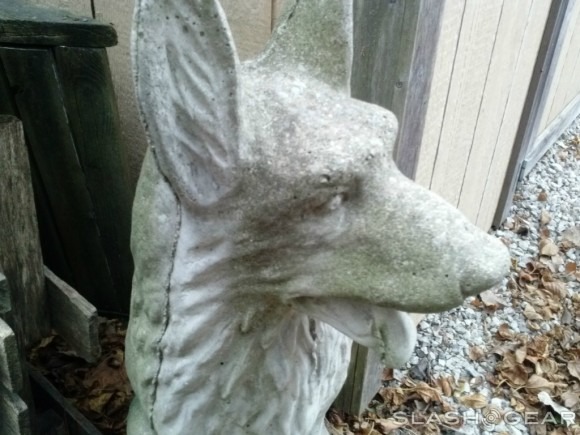 Benchmarks
In our benchmark tests, the Optimus L9 performed okay, but as you can imagine, there are plenty of other devices that rank higher. In Quadrant, it was given a score of 3035, which is enough to put it ahead of the Samsung Galaxy Tab, the Galaxy Nexus, and the Nexus S. In AnTuTu it's more of the same, coming in just below the Samsung Galaxy S II but above the LG Optimus 2X and the original Kindle Fire with a score of 5648.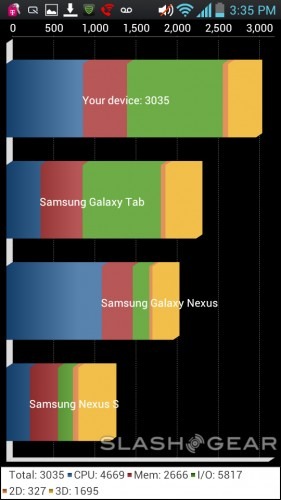 As far as speed tests are concerned, T-Mobile's network did decent. It obviously isn't the fastest around, and your results will vary, but for where I'm at in the world (mid-Michigan), T-Mobile's network posted some good speeds.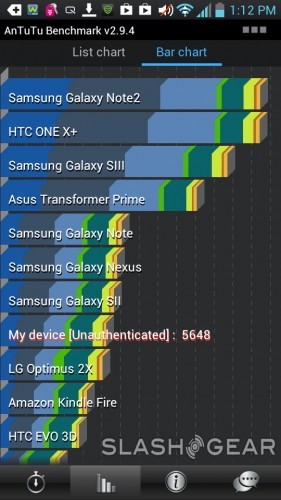 Of course, we knew from the start that the Optimus L9 wasn't going to be the best handset on the block and that T-Mobile's network wasn't going to be fastest around. The Optimus L9 performed within expectations though, so don't let these seemingly low benchmark scores dissuade you if you're in the market for a budget handset – the Optimus L9 runs smooth enough, and that's all that should really matter.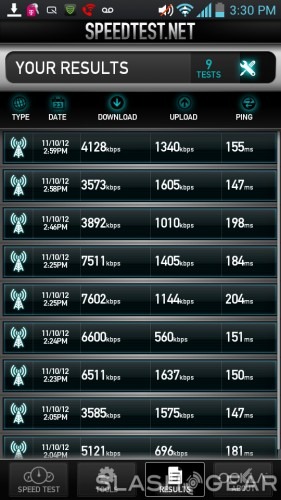 Wrap-Up
What can I say? For a budget handset, the LG Optimus L9 impresses. In no way is the phone the best, but its sleek design, nice screen, and the fact that it runs so smooth with have you thinking otherwise. Be sure that you consider the options before you pick one up, however, because while the Optimus L9 is good enough to be worthy of a recommendation here in 2012, its aging hardware means that probably won't be the case when you enter the final part of your two-year contract in 2014.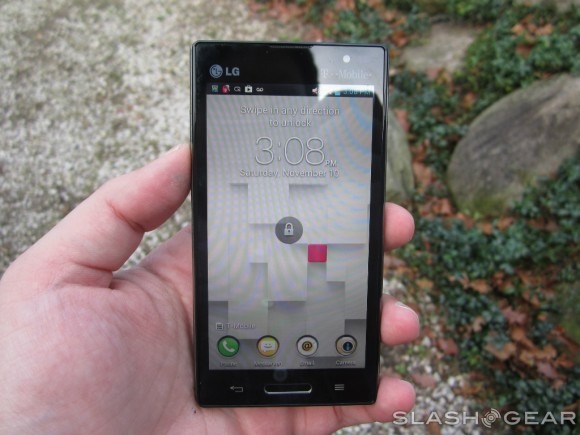 Still, for $80 on contract, the Optimus L9 certainly isn't a bad phone. It's perfect for budget-minded consumers who don't need the very best, but instead just want a phone that runs well and looks good. It's not likely to win awards in either category, but it gets the job done, and that's all you can really want in a phone that only costs $80.
In fact, I would go so far as to say that the Optimus L9 is one of the best budget handsets on the market at this moment. If you've been thinking of picking up a new phone but don't have hundreds to drop on the latest and greatest, be sure you take a look at the Optimus L9, as you really are getting a lot of bang for your buck.