LG OLED Falls is the mesmerizing CES 2019 display the tech was born for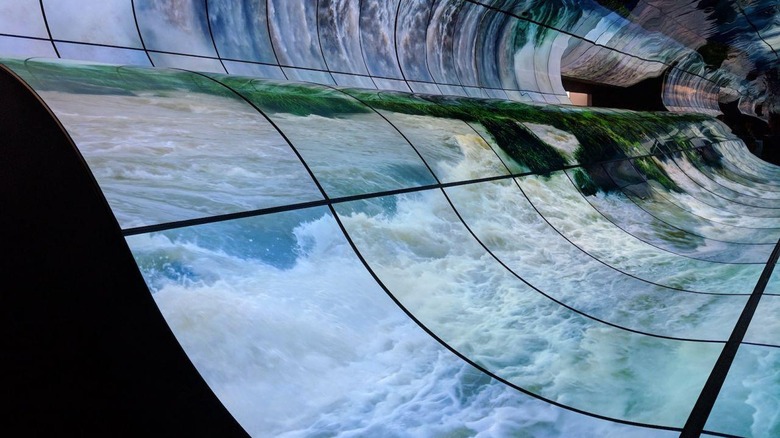 LG may have a rollable OLED TV to release this year, but it risked overshadowing its own flagship with its incredible LG OLED Falls installation at CES 2019 this week. The latest in a line of Consumer Electronics Show demoes of the company's display prowess, it comes after the LG OLED Tunnel in 2017 and the LG OLED Canyon in 2018.
If those experiences were about enclosing you in OLED, then CES 2019's installation was about flooding the senses. A full 65 feet in width, and standing 20 feet high, it uses a whopping 260 screens.
112 of those are flat, 55-inch panels. 76, though, have been bent into a concave shape, while 72 are convex. Altogether they form an arching wave that stretches up over viewer's heads, along with ripples of display running down to the floor.
As you'd expect, a big screen like that requires some pretty impressive graphics, too. For that, LG opted for scenes of the desert, of the ocean, different light patterns, and of course waterfalls. Matching audio rounds out the experience.
While obviously nobody is likely to install a setup like this – even considerably smaller – at home, it's a solid example of what makes OLED special. While we've seen some attempts by LG and Samsung to push curved TVs in recent years, the degree of flex there has always been relatively low. However the possibilities LG showed with these bent digital signage screens reflects much closer the actual potential of the OLED technology.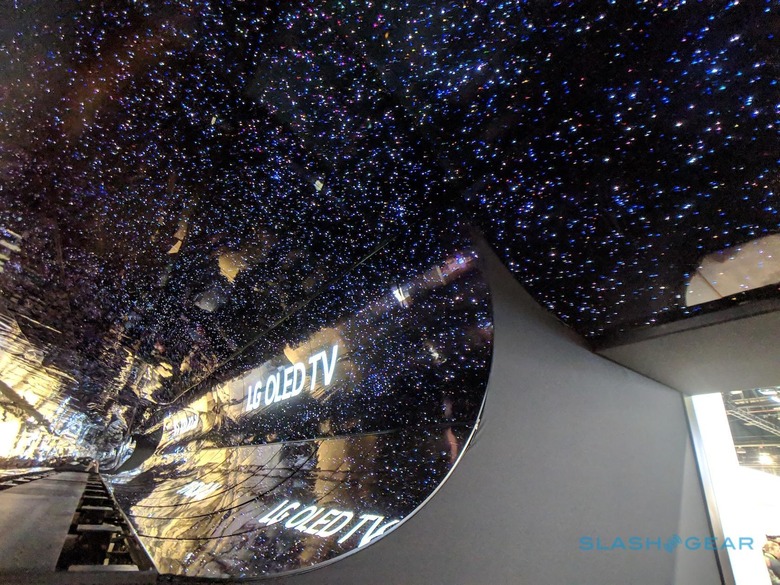 Critically, the pixels making up an OLED display are self-illuminating. That means, unlike in an LCD panel, there's no requirement for a separate backlighting layer; in the process, it keeps the screen slimmer and makes it easier to curve. The ability to produce OLED panels on a plastic substrate, rather than glass, too, makes creating convex and concave shapes more feasible.
That'll all be commercialized in the form of the LG Signature OLED TV R, which won SlashGear's Best of CES 2019 award in the TV category. By rolling its OLED panel like a sliding garage door, it fits a 65-inch set into a form-factor more akin to a large soundbar.
LG says the Signature OLED TV R will hit the market in the US come the spring of 2019. Pricing has not been confirmed at this point, though while it'll undoubtedly be cheaper than the LG OLED Falls, we're still expecting something eye-watering in the five-figure range.
[Updated to clarify Samsung and LG's curved TV strategy]