LG Nexus 5 rumored with impressive spec sheet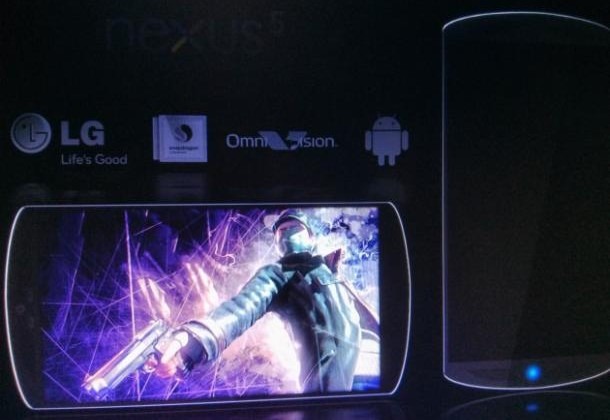 Here's a wild rumor for all of you, and one that you should probably take with a giant grain of salt (or just use the entire container). The specs list and design of the Nexus 5 has been rumored to leak. Google is said to be currently working with several manufacturers for its Nexus 5, and one of them is LG again. The phone is currently codenamed "Megalodon", and it's said to be looking at an October 2013 release date.
The picture above shows the prototype of the LG Nexus 5. The rumored specs list include: 5.2-inch OLED HD 1080p display, Qualcomm Snapdragon 800 CPU clocked at 2.3GHz, 3GB of LPDDR3 RAM, 16/32/64GB of internal storage, 16MP rear-facing camera by OmniVision with the ability record 4K resolution video at 30FPS, and 1080p video at 60FPS, 2.1MP front-facing camera, 3,300 mAh battery, front positioned stereo speakers, LTE 150Mbps & HSPA+, Integrated DVB-T/ATSC Antenna, and gesture-like controls.
The rumored specs are pretty amazing, and definitely a specs sheet that Google is capable of pulling off. But with all of those high-end specs, it'd be hard to imagine Google being able to sell the phone at it's standard, low, unlocked price. The 16MP camera sounds amazing, and a bit unreal, however Google's Vic Gundotra had stated last month that Google's future Nexus handsets will have "insanely great cameras".
The Snapdragon 800 sounds too good to be true,mainly because it's the highest-end CPU announced this year, and because it sounds very costly to adopt. 3GB of RAM also sounds too impressive. Whatever the case may be, we should be hearing more about this phone soon (maybe at Google's I/O). So what do you think about these rumors? I've been very happy with my LG Nexus 4 so far (despite having to wait a long while for it to ship to me), so if LG and Google really are working together on the next Nexus phone, I would not mind giving Google more of my money come Q4.
[via Android and Me]