LG Nexus 4 confirmed early: Ships October 30th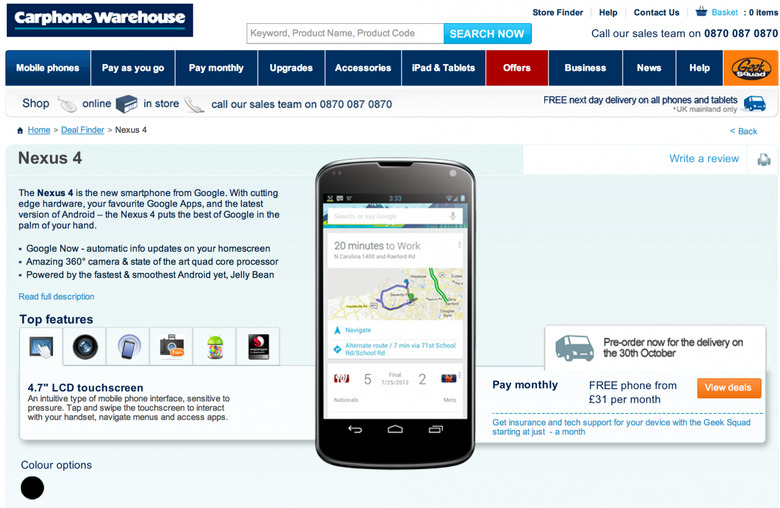 LG's Nexus 4, expected to be officially unveiled by Google at its event next week, has been prematurely confirmed by a UK retailer. The 4.7-inch Android handset has cropped up in a listing at Carphone Warehouse, running 4.2 Jelly Bean and packing an 8-megapixel camera and a quadcore 1.5GHz Snapdragon S4 processor, as expected. According to the page, shoppers can preorder now for delivery on October 30, with the Nexus 4 priced from free on a £31 ($50) per month, two-year agreement.
As for specifications, the phone has NFC, WiFi, 3G and Bluetooth, and measures in at 68.7 x 133.9 x 9.1 mm. LG isn't making any runtime estimates yet, but whatever the Nexus 4 can muster is all you're getting as the battery is believed to be fixed inside, just as per the LG Optimus G. Memory is apparently limited to 8GB, while RAM is 2GB.
Details on Jelly Bean 4.2 are sparse, at least compared to what we've already heard about the "point" update, though the page does confirm what sounds like a Swype rival:
"Stay in touch with Gesture Typing, a faster way of typing that lets you spell words by dragging your finger across the screen from letter to letter"
Whether this is an authorized early sale or not is a contentious point. Google is holding an Android event next week, where the Nexus 4 was expected to be one of the stars of the show alongside Jelly Bean v4.2; it's possible Carphone Warehouse has simply jumped onto the hype bandwagon, thrown together a page based on the latest rumors and leaks, and is using it with a guesstimated price to build up pre-launch enthusiasm and sales.
So, there's still no SIM-free pricing, and the full specs will have to wait until Google gives the official nod. Still, this is likely to be a more contentious Nexus device than others we've seen.
Update: The Carphone Warehouse listing has been taken down.
[via Xataka - Thanks Kote!]