LG N2R1 NAS saves "precious family memories", packs DVD burner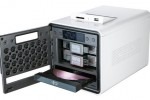 LG have announced a new NAS (network-attached storage) which rather than positioning as a computer peripheral are instead suggesting would make a great place to back up multimedia files.  The LG N2R1 packs up to 2TB of storage and RAID data redundancy, and can function as a DLNA or iTunes media server in addition to backing up your family photos, videos of grandparents falling off chairs and other priceless clips.
Meanwhile there's also an integrated DVD burner, which can be used to either load data onto the N2R1 or create further backups; alternatively you can quickly slap a bunch of clips and images onto a disc to force upon friends and family.  Both wired and WiFi b/g/ connectivity is supported, and there are also USB connections for plugging in external drives and the like.
Optionally, the LG N2R1 can be set up to allow remote access via the web, so no matter where you are that enchanting picture of your nephew with soup flying out of his nose can be shown to anyone foolish enough to sit still when you say "oh, I simply must show you these photos!"  The LG N2R1 NAS will go on sale this fall, with an MRSP of $299 for the 1TB model and $399 for the 2TB.
Press Release:
LG ELECTRONICS HELPS PROTECT CONSUMERS' DIGITAL MEMORIES WITH NETWORK ATTACHED STORAGE

Provides Easy-to-use, Secure Storage of Personal Multimedia Entertainment Files

ATLANTA, Sept. 10, 2009 – LG Electronics introduced a new Network Attached Storage option for consumers looking to protect their multimedia entertainment files, this week at Custom Electronic Design & Installation Association (CEDIA) EXPO 2009 (Booth #2623).

To help safeguard treasured family memories, photos and music, LG's Network Attached Storage (NAS) model N2R1 uses a proven system of multiple hard drives used for sharing and replicating data to prevent possible damage or loss. Called RAID (Redundant Array of Independent Discs), this system automatically backs up and restores files for added security in the event of a hardware failure.

With up to two Tera-bytes (TB) of storage, the N2R1 provides a wealth of storage capabilities, allowing consumers to continue building their digital libraries of music, movies and other multimedia files. For an enhanced level of convenience, the N2R1 includes a DVD Re-Writer and Playback feature for additional back up or file sharing options.

"Consumers continue to create digital memories, from photos to family videos and it's important that these irreplaceable moments are saved in a secure place," said Peter Reiner, senior vice president, marketing, LG Electronics USA, Inc. "With LG's Network Attached Storage, consumers now have a virtual `Library on Command' that allows them unlimited access to their favorite memories, whether at home or on the road."

Connectivity and Compatibility

For consumers who cannot be tied down by wires, the N2R1 has integrated WiFi connectivity for easy connection to any 802.11g wireless home network. The MyMedia feature allows consumers access to videos, photos and music through a DLNA-certified media player, placing digital entertainment libraries within easy reach of the big-screen. For music aficionados, the N2R1 also has iTunes™ connectivity for a networked music option.

The Network Attached Storage is compatible with a variety of operating systems such as Windows, Linux and Mac operating systems, allowing for installation in any home entertainment environment. It also provides remote support with easy access to files from anywhere an Internet connection is available, allowing consumers to show off their favorite pictures or movies even when they are away from home.

The N2R1 will be available online and at national retailers early this Fall for the manufacturers suggested retail price of $299 for 1TB of storage and $399 for 2TB of storage.