LG Music Flow curved sound bar for US arrives in October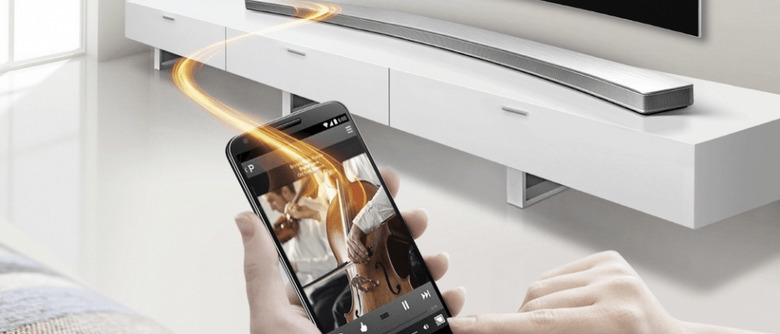 LG has a new curved sound bar that'll be arriving in the near future, the LAS855M. This is the maker's first curved sound bar, and it will be arriving for buyers in the United States this upcoming October. The sound bar is designed to complement LG's (and other manufacturers') curved televisions, being both gently curved in the same way and coupling it with a shallow, broad design. The speaker bar can be placed on the television stand or mounted on the wall.
LG announced the availability of the sound bar on Tuesday. The unit features a 4.1ch speaker system and a total of 360watts across four speakers and a wireless subwoofer.
The manufacturer has included an i-Sound mode, which it says can determine the type of media being played and adjust the audio output for an optimized listening experience. For example, the output settings used for watching an action movie would be different than what is used watching a sport's game.
This is an addition to LG's Music Flow product lineup, joining existing wireless speakers and other sound bars designed for home audio use. This latest sound bar features both Bluetooth and Wi-Fi connectivity, allowing it to work with a larger Music Flow network of same-lineup speaker sans a bridge. Music Flow allows content to be streamed from services like Google Play Music, Rdio, Pandora, and more. For those with speakers scattered around the house, there's also a Multi-room Mode.
Rounding out the features is HDMI passthrough and support for existing TV remotes from 8 manufacturers. The speaker will be priced at $699 USD.