LG Mini GD880 arrives this month with HTML5 Webkit browser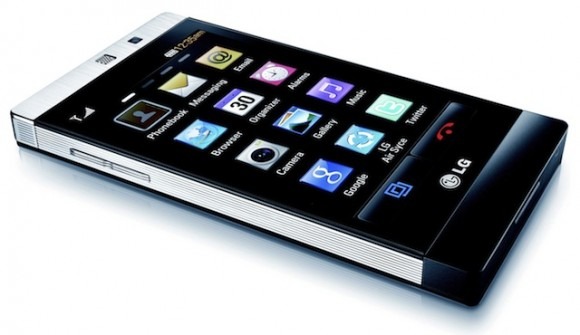 It's fair to say that it takes a pretty special feature-phone to get us excited these days, but the LG Mini GD880 may manage to tick a few boxes.  Announced back in February, the GD880's primary claim to fame – aside from its slimline build – is the HTML5-compliant Webkit based LG Phantom Browser, which supports Flash and up to 10 simultaneous windows viewed on the 3.2-inch touchscreen.
That's pretty advanced, and not just for a featurephone; it means you can access Google Latitude, Gmail, Calendar, Google Maps and Google Buzz, among other things.  There's also push email support, along with a 5.0-megapixel camera, A-GPS and an FM radio.  Connectivity includes 7.2 Mbps HDSPA (network depending, naturally) and WiFi.
The LG Mini GD880 is set to launch in Europe sometime this month, with broader availability following on after that; prices are yet to be confirmed.  We're still not entirely sure we'd pick a feature-phone – no matter how capable – over a smartphone, but for buyers prioritising web access the GD880 might make for a decent, affordable buy.
Press Release:
MAXIMIZE YOUR MOBILE WEB EXPERIENCE WITH NEW MINI PHONE FROM LG

Enhanced mobile web and social network experience with ultra-fast Phantom Browser supporting HTML 5

SEOUL, Apr. 7, 2010 – LG Electronics (LG), a global leader and technology innovator in mobile communications, today officially launched its new LG Mini (LG GD880), a pocket-size communication hub that maximizes the mobile web experience.

LG Mini is the first phone to use LG's HTML 5-compatible Phantom Browser, which offers a much faster and more stable internet experience. Mini also includes special internet applications and social network connection features that make keeping in touch with online friends easier than ever.

LG Mini is a 3.2-inch full touchscreen phone that feels solid in the hand and is small enough to fit into any pocket. A button-free face contributes to Mini's simple and sleek personality while textured metal accents on the sides add to the phone's visual appeal without detracting from its clean look. This design won LG Mini a red dot award and iF product design award in March.

"Our research shows that most people think current full touchscreen phones — especially smartphones — are too bulky, too clunky and too difficult to use," said Dr. Skott Ahn, President and CEO of LG Electronics Mobile Communications Company. We developed LG Mini to deliver the smartphone-like features that people want in a beautiful and compact package that is also user-friendly."

Maximum Mobile Web Experience

LG Mini is the first phone to offer LG's new Phantom Browser. Built for speed using the latest Webkit standards, the Phantom Browser delivers an on-the-go web experience without any limits. Not only is Phantom faster, it is also fully compatible with today's most popular websites. Mini's expanded memory allows for advanced multitasking, supporting up to 10 browser windows open simultaneously.

As the first HTML 5-compatible feature phone, Mini fully supports Google's Latitude, Gmail, Calendar, Google Maps and Google Buzz services, with the same functionality and speed as on a desktop PC. Improved JavaScript and Flash performance means flawless video playback from sites such as YouTube. With navigation tools Intelligent Zoom and Touch-to-Zoom, web pages load at a size optimized for reading on Mini's screen.

Maximum Connectivity

Social network connectivity is fully integrated into LG Mini so keeping in touch with online friends and making updates on popular social networks sites including Facebook and Twitter is simpler and faster. LG Mini also supports LG Air Sync, which wirelessly synchronizes information and data to a computer, the web and the phone. Even if the phone is misplaced, important data can still be accessed from any PC.

LG`s new On Screen Phone feature makes controlling Mini even easier. It shows the phone's interface on a computer screen so files can be dragged and dropped directly from the phone to a computer.

Maximum Convenience

Online Applications provide access to late-breaking information and entertainment in real-time. Applications from BBC News and AccuWeather are pre-installed and content from partners Amazon, CNN International, The New York Times, eBay and Fox News will be available through the LG Widget Gallery.

LG Mini also offers push email, 5.0 megapixel camera, Wi-Fi, A-GPS, FM radio and 7.2 Mbps HDSPA.

The LG Mini will be available in April starting in Europe followed by other regions. Prices will vary country-to-country.