Here comes the LG Optimus F5 for the United States, folks, named LG Lucid2 and available from Verizon with 4G LTE and wireless charging to boot! This smartphone is made to be your one-stop-shop for mid-range greatness, complete with a 4.3-inch qHD IPS LCD display, Android 4.1.2 Jelly Bean (with LG's modifications) right out of the box, and a dual-core Qualcomm Snapdragon S4 processor! This smartphone is also completely free with a 2-year contract signed up with Verizon starting on April 4th.
You'll find this machine humming along nicely with 1GB of RAM, 8GB internal storage, and a microSD card slot for storage expansion. If you're all about the wireless charging, you'll have to make sure you pick up the separate removable battery cover – that'll cost you $40 USD. This will pair nicely with your wireless charging dock, both this and that being bits and pieces we'll be reviewing for you later this week!
Above you'll see a bit more of the LG Optimus F5 as we saw it earlier this year at Mobile World Congress 2013. There in Barcelona we saw LG bringing the fight to multiple display sizes with iterations of devices in this Optimus wave all ready to be LG's 2013 front. You'll see not only LG's custom user interface, but another showing of LG's own Starter Mode – made perfect for those using a smartphone for the first time.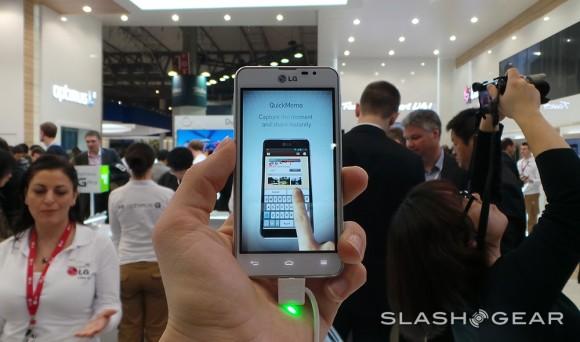 You'll be able to purchase this device online on the 4th of April while this device's retail appearance will be at least one or two more weeks away. Let us know what you'd like to know about this device right now!