LG: LTE In The Nexus 4 Is An Evolutionary Leftover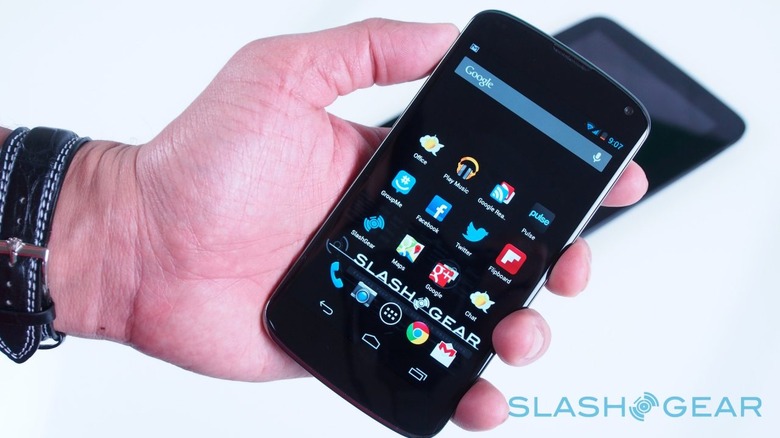 The LTE modem discovered in the Nexus 4 is an evolutionary leftover akin to an appendix or tailbone, LG has explained, dashing any hopes of a firmware update unlocking future 4G capabilities. Interest was raised when teardowns of the latest Nexus smartphone revealed it had an LTE-capable modem, despite being billed as 3G only; as LG told TechRadar, however, that's just the vestigial remnants of the more advanced – and more expensive – device the Nexus 4 was based upon.
"In order to provide the best possible specification for Nexus 4, LG utilised the same powerful Qualcomm Snapdragon chipset as can be found in its 4G LTE product, namely LG Optimus G," a spokesperson said of the modem's presence. "This powerful chipset is only available with a combined processor and modem and cannot be implemented separately."
Even with the modem in place, that's not enough to ensure 4G support even if the drivers from the Optimus G were ported to the Android 4.2 handset. The Nexus 4 is missing vital hardware to actually take advantage of that modem.
"The modem contains 4G LTE capabilities but is only effective when combined with other essential hardware parts such as a signal amplifier and filter in order for it to work" the LG spokesperson explained. "It therefore cannot be upgraded to 4G LTE capability through software."
LG's comments are at odds with discoveries made by Android modders earlier in the month, however, who discovered that Canadian LTE support could apparently be enabled with a relatively straightforward hack.
The decision to leave out official 4G support in the Nexus 4 met with disappointment from many, though Google has its reasons for the omission. In addition to making the phone cheaper – important, since Google is placing an emphasis on unlocked, SIM-free sales – it also bypasses the carrier collaboration required to test and certify LTE devices on the newer breed of 4G networks.
It also avoids the headaches of supporting the various LTE bands in operation around the world; so far, there's no one single LTE modem that can play nicely with all of the 4G networks currently deployed. As Apple has discovered with its multiple versions of the iPhone 5, currently the only feasible option for a manufacturer is to offer several variants of a device, each catering to a handful of the 4G frequencies in use.
Given the last-gen Galaxy Nexus was offered in 4G form on Verizon, however, there's still the expectation – so far unconfirmed by Google itself – that an LTE Nexus 4 will be offered at some point in the smartphone's life cycle. So far, though, despite the frustration of the 4G-addicted, out-of-control demand for the Nexus 4 means that even with only 3G onboard, the handset has been a sales success for Google.