LG LH95 claimed World's Thinnest LCD, set to reveal at CES 2009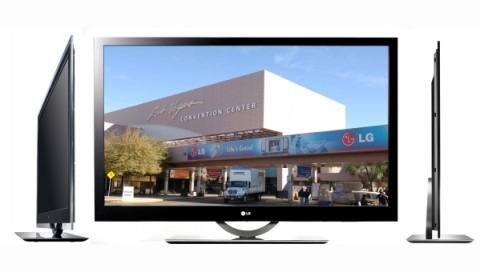 We love this time of the year taking stock of newest and greatest displays get ready for CES 2009. LG for instance, has unveiled ultra high contrast with million-value rating Trumotion 480Hz panel and a 24-inch monitor for CES 2009, here's another with two million to one contrast ratio LCD with World's thinnest title to boost.
Measures at a mere 24.8mm in thickness, the LG LH95 is the World's thinnest LCD flat panel with LED backlit technology. It's far from reaching the paper thin OLED panel, but that's the first sub one-inch high performance big screen LCD to date.
Physically, the slender form will be standing out from the crowd; beneath the bezel, it also sports a 240Hz TrueMotion Drive technology with ability to deliver 2,000,000:1 ultra smooth high contrasty motion pictures. The rest of the details are still thin on the new LG display, but CES is just a week away, stay tune.