LG L Series III brings G style to the midrange for the third time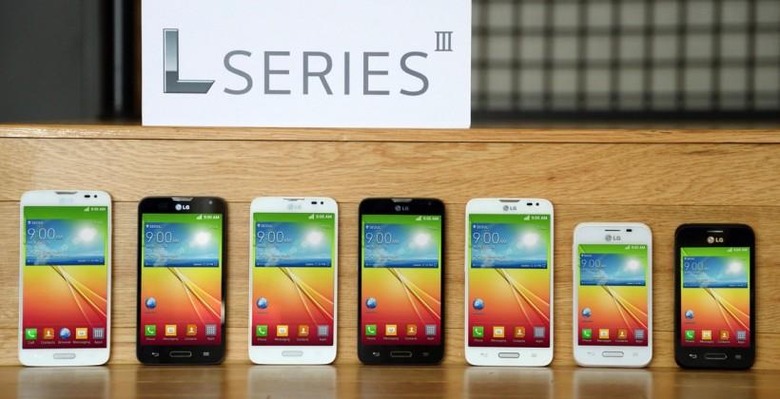 Mobile World Congress may still be a week away, but that hasn't stopped LG from spilling the beans on its upcoming line-up; first the new G Pro 2 flagship, and now the third-generation of L Series. The Android 4.4 KitKat powered L40, L70, and L90 range in size from a 3.5-inch display through 4.5- and finally 4.7-inches, each running a 1.2GHz processor – dualcore on the L40 and L70; quadcore on the L90 – and with HSPA+ but not LTE.
Smallest is the L40, with a 3.5-inch 480 x 320 touchscreen, 4GB of storage, and 512MB of memory. It trims costs with a 3-megapixel camera, and lacks a front-facing camera; inside is either a 1,700 mAh or 1,540 mAh battery, depending on market, with the smaller version at least having the benefit of being user-replaceable.
Sitting in the middle is the L70, with a 4.5-inch IPS 800 x 4800 display, 4GB of storage, and 1GB of memory. It has either an 8- or 5-megapixel main camera, depending on where LG is offering it, and a VGA-resolution front camera; the removable battery is 2,100 mAh.
Finally, there's the 4.7-inch IPS 960 x 540 L90, with an 8-megapixel camera on the back and a 1.3-megapixel camera on the front. It has the biggest battery of the three, at 2,540 mAh, but it's still user-accessible; internal storage is 8GB, and memory is 1GB.
All three follow LG's latest design language as distilled down from recent G Series phones, and will be offered with Quick Window covers that have a small window through which status updates and Caller ID can be seen without having to actually open them up first.
No word on pricing or availability at this stage, but LG will give out more details at MWC 2014 next week.