LG G Pro 2 Unveiled With 5.9" Display And Sound Boost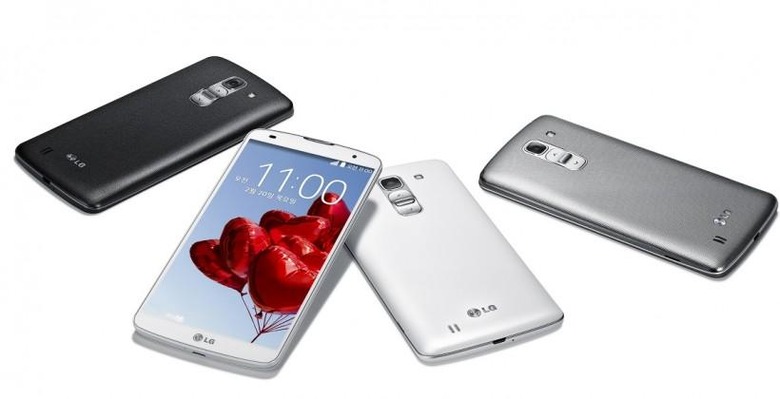 Late last month, LG confirmed both the existence and the upcoming arrival of the LG G Pro 2, which was assumed to be slated for Mobile World Congress later this month. Not being one to wait, LG has pulled the trigger sooner than that, introducing its latest handset in Korea and promising we'll get to see in in person at MWC 2014.
With the LG G Pro 2 comes a 5.9-inch Full HD IPS display surrounded by a thin 3.3mm bezel. As mentioned, the handset also comes with a sound boost over the previous model, with LG saying it offers 1W Hi-Fi sound that trumps the previous model by 30-percent in terms of volume, as well as offering a more powerful bass note.
In addition, the LG G Pro 2 features a 13-megapixel camera with Optical Image Stabilizer Plus, more commonly referred to as OIS+, marrying together hardware and software to keep images and videos clear. Both the front and the rear cameras in this latest model have larger and more sensitive sensors and lenses, as well, with the handset maker saying the results "rival many standalone point-and-shoot cameras".
Among the photography offerings is 4K Ultra HD video recording, as well as 120FPS HD and slo-mo editing. There's Magic Focus, Natural Flash, Flash for Selfie, Burst Shot, and Gallery Collage. Expanding beyond this feature, other offerings with the LG G Pro 2 include content lock for locking things like files and photos, mini view for shrinking the display to a smaller size for one-handed use, and dual browser, which splits the screen in two parts for easier browsing.
The LG G Pro 2 also comes with something called Knock Code, which the handset maker says makes unlocking the smartphone easier than with the previous version. Speaking about the feature, LG's President and CEO Dr. Jong-seok Park said:
"Knock Code is an example of LG bringing simpler, more convenient solutions to consumers' mobile lives. Whereas in the early years of smartphones it was a contest to see how many features could be stuffed into the phones, our researchers took a long, hard look at how consumers were really using their devices in their daily lives and included just the most useful UX features. We think customers will agree."
As far as hard specifications go, the G Pro 2 has a Qualcomm Snapdragon 800 2.26GHz quad-core processor and Adreno 330 alongside 3GB of memory and 16GB/32GB of internal storage (microSD expansion slot included). The front camera is a 2.1-megapixel offering, and the battery is a user-removable 3200mAh unit. There's Bluetooth 4.0, 802.11 a/b/g/n/ac, NFC, and SlimPort. The phone will be offered in Red, White, and Titan. No word yet on when it'll hit shelves.