LG K8, K5 almost complete LG's new K budget family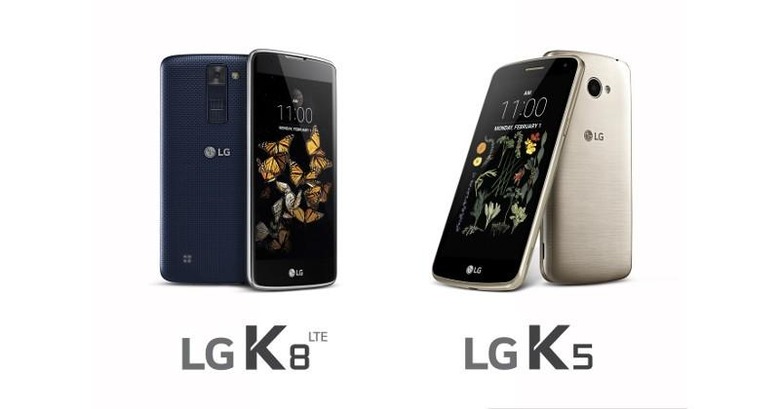 At CES 2016 right at the start of the year, LG revealed its new K line. Like some of its other smartphone families, like the L series before it, the K series is marketed as affordable handsets that won't make your wallets bleed. Unlike those other smartphones, however, LG is positioning the LG K line to have at least palatable cameras. We've seen the K10, K7, and K4 make their way to the press since then. Now the family is nearly complete, with the announcement of the K8 and K5 coming to markets this week.
Astute readers might already be aware that there is practically no correlation between the model numbers and their features, particularly their screen sizes, other than "higher is better". Take for example this new LG K8 and LG K5, both of which actually posses a 5.0-inch LCD screen. But while LG K8 has at least an HD resolution, the LG K5 only goes as far as FWVGA, or 854x480 pixels. Both powered by a 1.3 GHz quad-core processor.
LG markets the K series to be such fine-looking smartphones with a photography bent, though some might argue against that. The LG K8 bears an 8 megapixel rear camera, for example. The 5 megapixel front camera, however, might make for a decent selfie shooter. On the K5, the specs are taken down a notch or two, with 5 megapixels on the back and 2 megapixels on the front.
The two are also being made available for different markets. The LG K8, which has a larger 2,125 mAh battery and NFC support, will land in Asia, Africa, the Middle East, and CIS, where it will have 1.5 GB of RAM, and in Latin America, where it gets only 1 GB. This particular budget smartphone is distinguished not only by its 2.5D Arc Glass display but also by the "woven" back cover.
On the other hand, the LG K5 will make its way to Europe, CIS, and Latin America, skipping out Asia and Africa. LG gives this one a smaller 1,900 mAh battery but tries to balance the notable lack of features with a metallic body sporting Gold, Silver, and Titan color options.
SOURCE: LG