LG isn't just giving away 4,000 LG G4s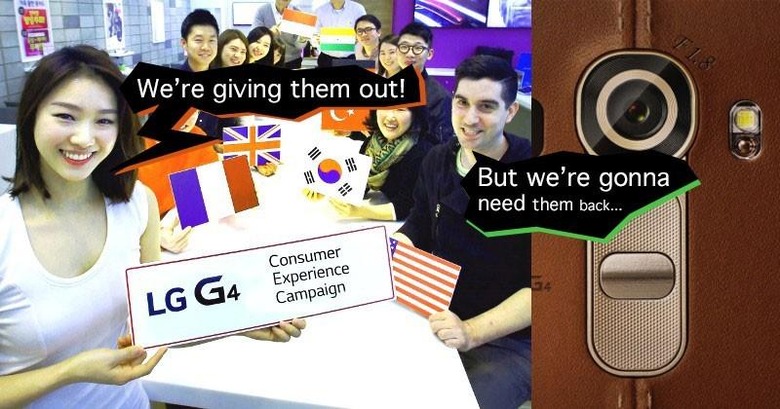 The LG G4 "Consumer Experience Campaign" isn't what the headlines suggest. You aren't going to get an LG G4 to love and to hold and to keep forever. It's a testing program. While most news sites suggest that LG is giving out 4,000 smartphones to those "lucky" enough to receive one, they push the bit about a time limit to a paragraph later in the article. Far further down than some readers choose to read, well further than their excitement would carry them, as it were.
Participants in this campaign are not given an LG G4 to keep. The LG G4 Consumer Experience Campaign is more like a loan than it is a handout. "Once selected," says LG, "participants in each country will be given an LG G4 for up to 30 days to experience its unique design and features."
We're waiting to hear back from LG on what will happen if the following should occur with testers:
1. They want to purchase the phone after the 30-day trial.
2. They accidentally destroy the phone.
3. They accidentally lose the phone.
4. The phone is stolen.
The reason this Consumer Experience Campaign exists, according to Juno Cho, president and CEO of LG Electronics Mobile Communications Company, is to "[put] the success of LG G4 in the hands of consumers before the launch because we believe they are the best judge of a great user experience, beyond just benchmarks and speed tests."
Above you'll see the Official Teaser Video for the LG G4.
Participants will be given "various assignments" by LG over the course of the 30 day trial – and they suggest prizes will be awarded during that period as well. So be you a resident of the following, keep in mind the FULL rules, and dive in: Turkey, Indonesia, Singapore, United States, China, India, Brazil, Canada, United Kingdom, France, Germany, Mexico, Japan and Hong Kong.