LG G8X ThinQ released to AT&T with Dual Screen case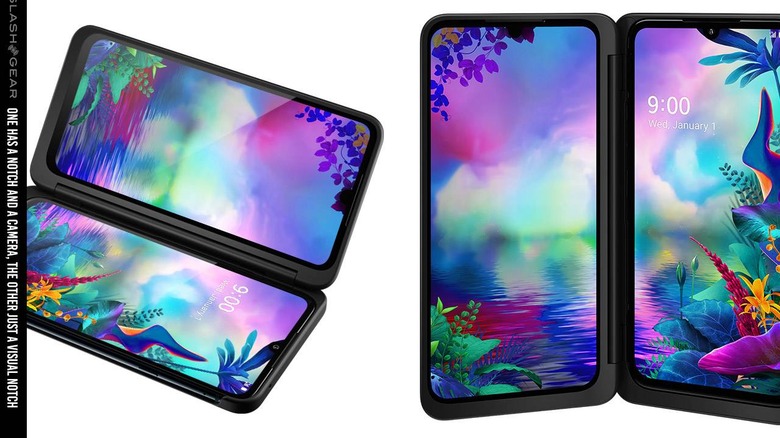 Today we're taking a peek at the newest smartphone to launch in the USA with AT&T. This is the LG G8X ThinQ, and it's coming with a dual-screen attachment accessory. For a short bit, between here and "a limited time" later, people who purchase the LG G8X ThinQ from AT&T will get this extra display for free – making this a strange value proposition indeed.
Note that this extra screen will not be "free" with the purchase of this phone forever. After the "limited time" is done, people who purchase the phone will have to purchase the extra screen accessory separate, if they do so wish to own it. Everyone who gets one before the Limited Time is done gets to keep the screen, of course.
The LG G8X ThinQ itself run Android and has a 6.4-inch OLED 19.5:9 FHD (2,340 x 1,080 / 403ppi) display. This display has a notch to make way for its front-facing camera – 32MP Standard (F1.9 / 0.8μm pixels / 79-degree FOV). This notch can also be seen on the add-on display.
The LG Dual Screen also has the notch in preview images, but does not have its own camera onboard. As such, this might well be the only display (like this) in the world with a notch that does not exist to make way for a camera or sensor of some sort. Similar connections with other LG smartphones with the LG Dual Screen do not have a notch, so this might just be on the home screen alone.
Users will find a pair of cameras at the back of this device. One is a 12MP Standard lens with F1.8, 1.4μm pixels, and 78-degree field-of-view, and another is a 13MP Super Wide lens with F2.4, 1.0μm pixels, and a 136-degree FOV.
Under the hood, this smartphone sports a Qualcomm Snapdragon 855 SoC. The LG G8X ThinQ has 6GB RAM and 128GB internal storage. AT&T will carry one version of this phone – and it'll have a microSD card slot as well, allowing up to 2TB additional media storage. Pricing for this smartphone (with the second screen for a limited time) will be $699.99 unlocked. Per LG, "Introductory promotions will be available for a limited time at launch and partners will announce available offers."