LG G8X ThinQ brings improved Dual Screen and smarter multitasking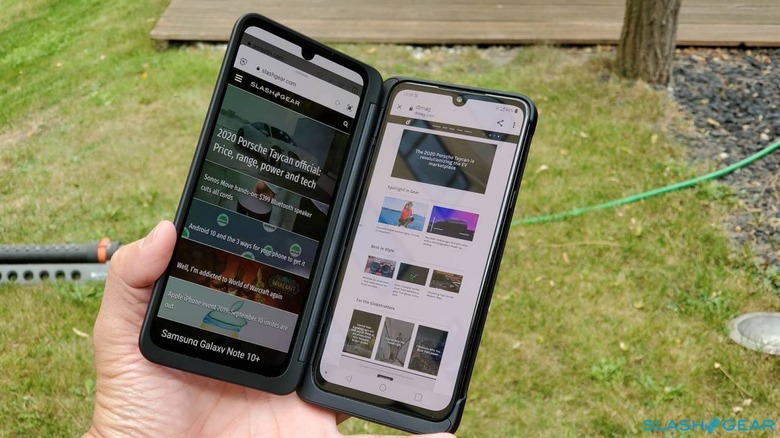 LG hasn't given up on dual-screen phones, but nor is it quite ready to wade into the problematic waters that have mired Samsung and Huawei's foldable Android devices. Instead, at IFA 2019, it has an updated version of its LG Dual Screen accessory, working with the new LG G8X ThinQ.
The original Dual Screen accessory launched alongside the V50 ThinQ, as a way to add a whole second touchscreen. It snapped on like a case, with a hinge that could open up to reveal a second panel. This new, second-generation Dual Screen takes the same approach.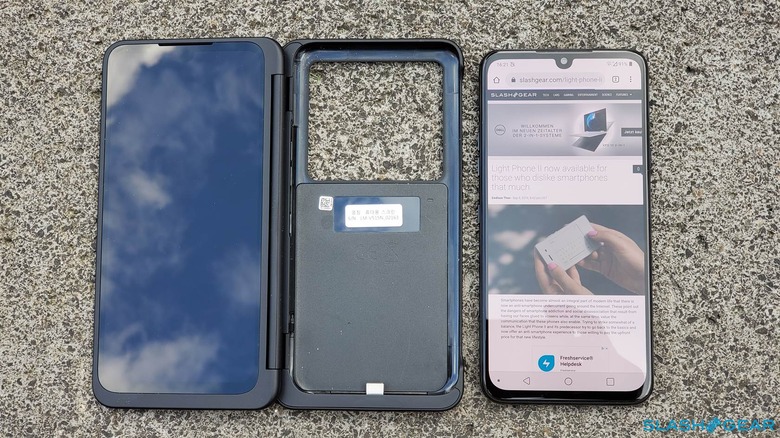 LG's argument is that a power-user's smartphone should reflect their desktop, where two or more displays are commonplace. At the same time, larger phones are eating into tablet marketshare. That opens the door for devices which fit into a smartphone form-factor but deliver more screen real-estate.
It's a familiar idea, if you've listened to Samsung or Huawei talk about their Galaxy Fold or Mate X foldable smartphones before. Rather than a piece of flexible OLED, however, LG has opted for a somewhat more reliable hinge. It also means that the LG G8X ThinQ can shed its second screen when you don't want to carry it.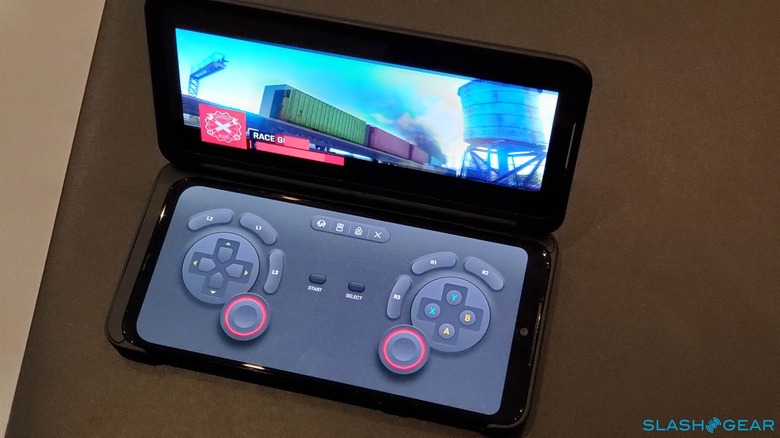 Compared to the old design of the LG Dual Screen, this new one has two matching panels. Both the LG G8X ThinQ and its secondary screen measure in at 6.4-inches, rather than the 6.2-inch of the previous secondary touchscreen. It's slightly lighter, too, at 134 grams versus 136 grams, and a little thinner as well: 14.99mm versus 15.54mm. Perhaps most importantly, it also uses 10-percent less power, and connects via USB rather than pogo-pins.
Oddly, the secondary screen has a notch but no camera occupying it. LG says this was a side-effect of its decision to use an identical panel, from the same suppliers, on the Dual Screen attachment as used on the smartphone itself. That way color and brightness should match up.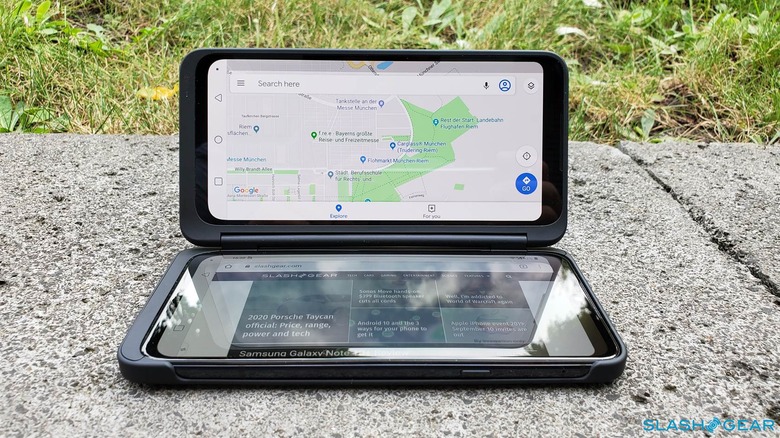 The cover display, meanwhile, now offers a 2.1-inch preview of incoming calls, messages, the time and date, battery status, and other metrics. Finally, the other main hardware tweak is that the Dual Screen no longer has four preset angles it can open between: instead, you can freely set the angle just as you would a laptop display. LG is calling it a "360 Freestop Hinge."
Why would you want that secondary screen in the first place? That comes down to multi-tasking, something LG says has also been improved in the LG G8X ThinQ. There's now an instant-capture screenshot tool, making sharing information on-screen easier, and accessed from the keyboard. You can have two different apps on-screen at once, or app-makers will be able to use LG's SDK to have two UIs from a single app using both panels. An example of that is LG's own gallery app, which can show both thumbnails and a full image at once.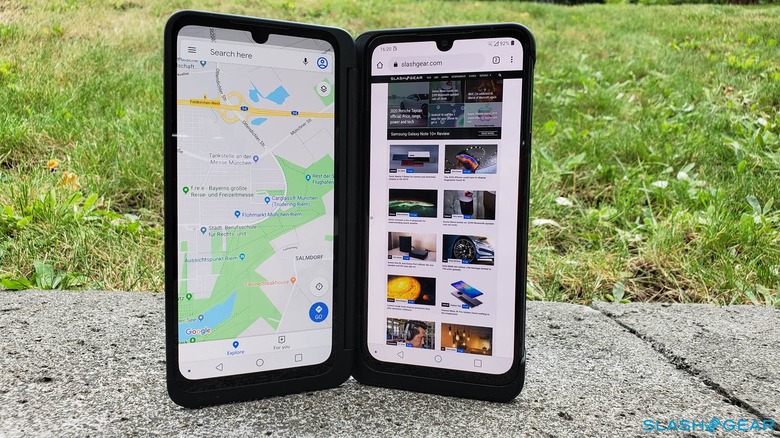 The web browser has been updated too, and the on-screen keyboard now makes better use of the phone's display when you turn it 90-degrees. It's possible to set a "My Pick App" that automatically loads when you open the clamshell up – maybe your calendar, or your messages – and there's a new custom gamepad interface for controlling games. With the tweaked camera app, you could turn the Dual Screen around 360-degrees and see a preview of what they're shooting from the other side.
As for the rest of the phone, despite what the name might suggest the LG G8X ThinQ picks up where the LG V10 ThinQ left off. The display is FHD+ resolution, and LG uses Qualcomm's Snapdragon 855 with 6GB of RAM and 128GB of storage. You get a 12-megapixel regular camera with OIS and a 13-megapixel super-wide angle camera on the back, and a 32-megapixel selfie camera. There's wireless charging for the 4,000 mAh battery, an in-display fingerprint sensor, microSD slot, 32-bit Hi-Fi Quad DAC, 3.5mm headphone jack, and IP68 water/dust resistance.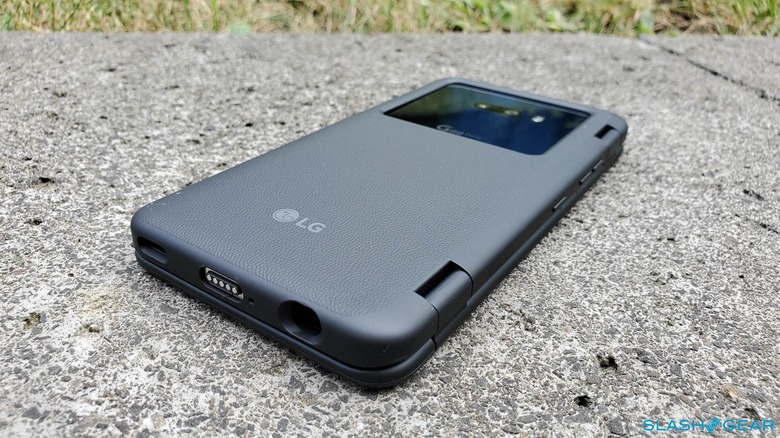 The LG Dual Screen, meanwhile, has the same display 2,340 x 1,080 of course, and charges via USB. The outer display is monochrome. Together, phone and secondary screen weigh 326 grams.
Is there a market for dual-screen devices? It's still going to be a niche segment, certainly, and expensive foldables like the re-launching Galaxy Fold isn't going to do much to shift that balance. We'll see how popular the LG G8X ThinQ and its LG Dual Screen companion turn out to be when they go on sale in Q4 2019. Pricing and US availability haven't been announced yet, nor whether carriers will be selling the two parts separately or bundling the phone and secondary screen accessory together.