LG G5 USB-C supports Power Delivery, Qualcomm Quick Charge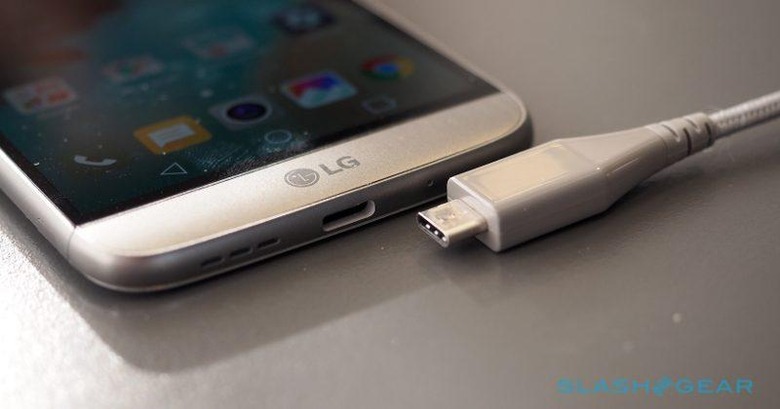 Despite the promises of a better USB future, USB Type-C, the reversible, all-in-one connection, is still in a stage fraught with growing pains. Some manufacturers and accessory makers are too eager to jump onto the USB-C bandwagon that they don't always check for proper compliance and implementation. Even OnePlus was guilty of that rookie mistake. Fortunately, it seems that LG has learned from others' mistakes and has ensured that the USB-C port on the LG G5 is compatible with both Qualcomm's proprietary Quick Charge 3.0 and the more standard USB Power Delivery 2.0 spec.
USB Type-C can do everything, from charging to data transfer to video output. As such, it has stricter rules on what can and cannot be done with connection and connectors. One of those rules basically disallow the use of proprietary charging technologies like Qualcomm's much advertised Quick Charge. In its stead, the USB Power Delivery spec tries to also provide that same fast charging feature in a more open, non-proprietary way.
Benson Leung, a Google engineer now famous for being the USB-C Crusader, has qualms about the LG G5 precisely because of that. LG explicitly advertises Quick Charge 3.0 via its USB-C port, which is contrary to the USB-C spec. Fortunately for the LG G5, TrustedReview discovered that it actually supports both Quick Charge 3.0 and Power Delivery.
According to Leung, that opens the door for quite a few things. For example, USB Power Delivery chargers will most likely work with the LG G5 as well. The smartphone's port might also support DisplayPort output, which LG does claim but hasn't proven yet. There is also a chance that "charge-through" hubs, hubs that let you charge and use the USB connection for data at the same time, might also work.
That said, these are all "might" cases, and Leung is encouraging TrustedReviews to test those out as well. It could turn out that the LG G5 is the most USB-C compliant smartphone in the market today. Next to Google's Nexus devices, of course.
SOURCE: TrustedReviews
VIA: +BensonLeung