LG G5 "Friends" now available in the US, sans B&O Hi-Fi DAC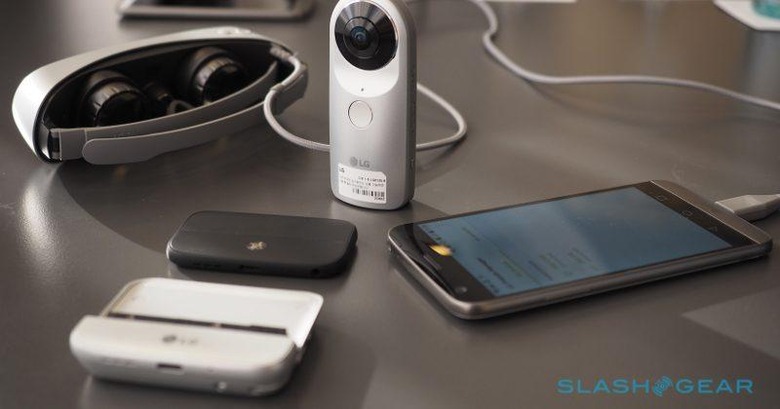 It's been more than a month since the LG G5 officially launched in the US, but it is only today that LG finally released the "Friends" that actually made the LG G5 truly special. After all, the smartphone's modular doesn't really serve any purpose if it doesn't have modules to use. In any case, fans and would be buyers can breathe a sigh of relief now that the CAM Plus, 360 CAM, 360 VR, and TONE Platinum are available for purchase. Sadly, it seems the speculations were spot on, and the Hi-Fi DAC module is indeed missing from the set.
It is a bit disheartening not to see Bang & Olufsen's module in the list, for two reasons. The obvious one is that US customers will be missing out on the hi-fi audio quality it promises, which, by the way, can also be used without the LG G5. The not so obvious reason is that the B&O module is the only other "Friend" aside from the CAM Plus that is actually an attachable module for the smartphone. All the rest are simply external accessories.
Of course, that's not to downplay the capabilities of these so-called Friends of the LG G5. While the LG CAM Plus doesn't exactly upgrade the camera hardware on the smartphone, it does upgrade the experience of taking photos by providing physical controls familiar to users of digital compact cameras. The LG TONE Platinum, on the other hand, upgrades the listening experience, being LG's latest and most premium TONE Bluetooth headset to date.
The LG 360 CAM and LG 360 VR are two sides of the same VR coin. While they of course function independently, they are best used together. The 360 CAM, as its name says, records 360-degree photos and videos which you can view on your LG G5 or, better yet, on the 360 VR headset. The latter, of course, works with other VR content besides the one from the 360 CAM, including Google Cardboard.
The prices for these accessories are as follows:
• LG CAM Plus – $69.99, one model for AT&T, another Verizon, T-Mobile, US Cellular
• LG TONE Platinum – $199.99, available in Gold, Silver, and Black
• LG 360 CAM – $199.99
• LG 360 VR – $199.99
Hopefully LG will be able to solve whatever regulatory problems it has that's blocking the B&O Hi-Fi DAC module to cement its position in the modular smartphone market. And hopefully soon as Lenovo/Motorola are rumored to take it on with a modular smartphone of its own next month.