LG G3 Review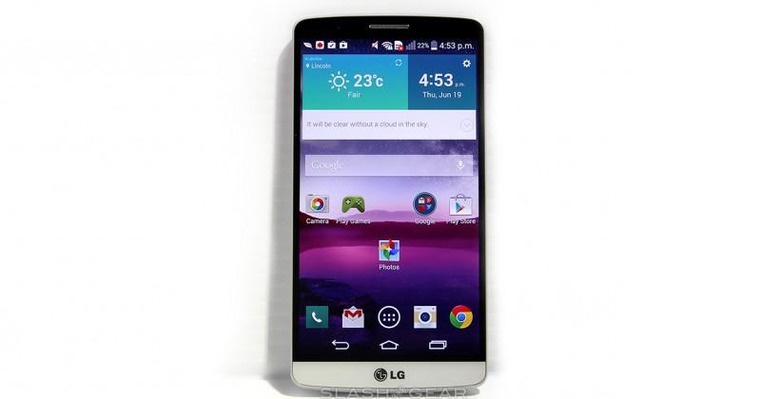 This month we've had an extended look at the LG G3 in its international edition, preparing for the USA-bound version(s) which will be launching later this Summer. What we're seeing here is a phone that out-does the competition while it remains (somehow) humble in the public. It's not for a lack of trying, of course, but for a lack of successful fanfare that most people we show the LG G3 to have never seen the handset before – it or its predecessor.
What phone is that?
This is the LG G3, and if you live in the USA, you've likely never seen one up close. Why are we reviewing one before it's been announced for USA-bound carriers? Because LG sees the time period between their international release and their USA release as a make-or-break sort of period in the history of the device.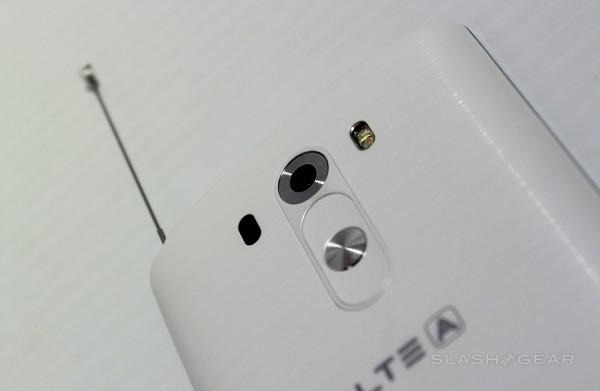 In order for you, the potential consumer, to remain excited about the LG G3 between when it was announced earlier this year and when it'll be on store shelves in the United States, LG needs to keep your eyes on the prize. While it's not our job to advertise for LG, it is our job to let you know what LG is presenting, and whether or not it'll be worth your time and effort to buy one for yourself once you get the opportunity.
Hardware
The LG G3 works with a 5.5-inch 2K display – that's 1440 x 2560 pixels, or 3x the amount of pixels you'd get with a device like the Motorola Moto X, which has a 720p display. The LG G3's display works with IPS LCD technology and is exceedingly bright and sharp.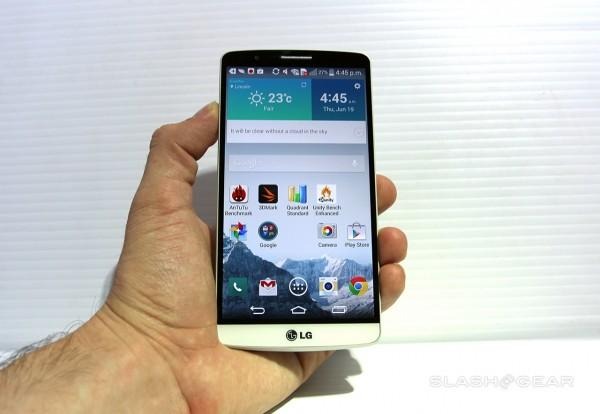 In fact with a 534PPI (pixels per inch) screen density, the LG G3 beats out the Samsung Galaxy S5, HTC One (M8), and the iPhone 5s as well.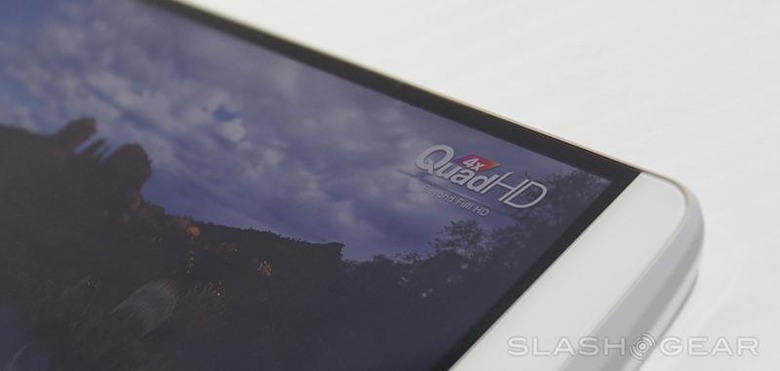 Below you'll see the LG G3 next to the HTC One (M8). The HTC One (M8) is available from several carriers at the time this review is published, while the LG G3 will arrive in the United States later this summer.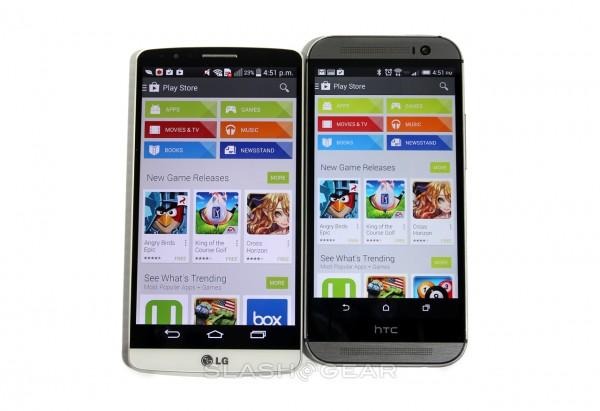 The processor on the LG G3 is a Qualcomm Snapdragon 801 with model number MSM8975AC. This is very, very similar to the HTC One (M8) and Galaxy S5, both of which work with a Qualcomm Snapdragon 801 with model number MSM8974AC. The only real difference is the clock speed, 2.45GHz max compared to 2.5GHz.
The processors in combination with their displays make for very similar end results with this whole collection of devices. You'll find benchmark scores with the LG G3 to be lower than the HTC One (M8) and the Samsung Galaxy S5 in many cases simply because the processor, while running with a higher clock speed, needs to push graphics to a more densely-packed display.
Speakers on the LG G3 are loud enough for standard use but are, again, back-facing, so you'll not likely be using them for much more than your occasional viewing of a YouTube video in public. Which is a shame because the display is so gorgeous.
Above you'll see a number of photos of the LG G3 from different angles. Remember that once this device comes to the United States, it'll likely have carrier branding different from the one we've got here.
Software
LG's customizations to Android don't look a lot different from the LG G2, but since most users looking at the LG G3 won't have likely used its predecessor, you'll want to know the following. First, LG is using Android 4.4.2 KitKat here right out of the box. Android 4.4 KitKat brings many new features.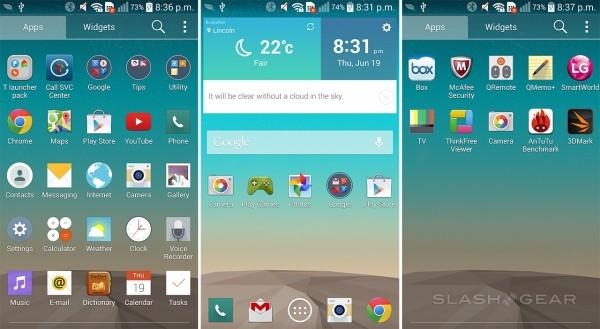 The most important features brought on by KitKat for this device for the average user are transparency, OK Google, and full screen immersive mode. While you don't get to use the "OK Google" command from any part of the system – here it's reserved for inside the Google Search app – it is possible LG could turn this functionality on in the future.
LG continues to work with knock-on, allowing you to turn your display on or off with a couple of taps. They've also activated Knock Code, a unique way to unlock your device with four quadrants. With 3-8 knock patterns, we've had nothing but success with this innovative way to get in.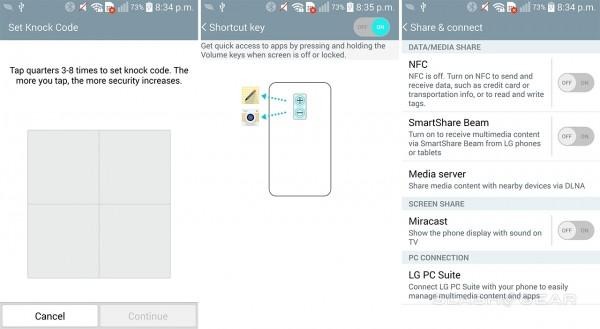 LG G3 works with Smart Notice, bringing you updates to the center of your screen working with three key elements: Smart Cleaning, Call log based Reminders, and Location based Reminders. You can also set reminders based on events in your calendar – LG G3 reminds you that your battery saver is about to turn on when you hit 30% power as well.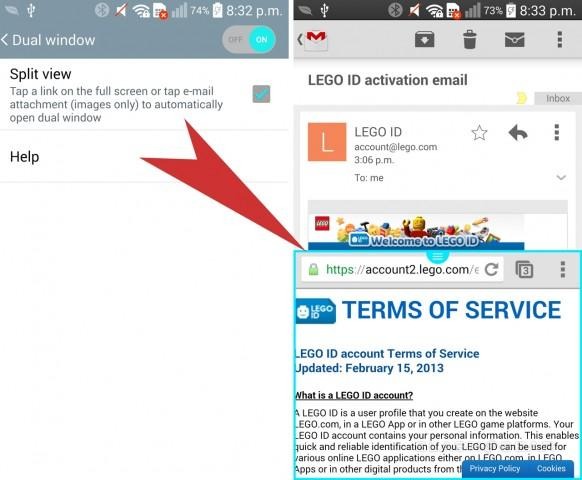 Overall the game-changing software is kept simple. There are modifications to the pull-down notifications panel and you will see some differences in the aesthetics of your settings pages, but they're not extremely important to the overall experience.
Where it counts, the LG G3 is swift. You'll have the best in Android without pushy features you won't ever use – a welcome change from some other top-tier manufactures of smartphones out today.
Camera
On the back of the LG G3 you'll find a camera, a single LED flash, volume buttons, a power button, and a black piece of plastic. This black object is covering LG's Laser Auto Focus. Using "laser technology", LG suggests that their measurement of the distance between the LG G3 and your photo subject is top-notch.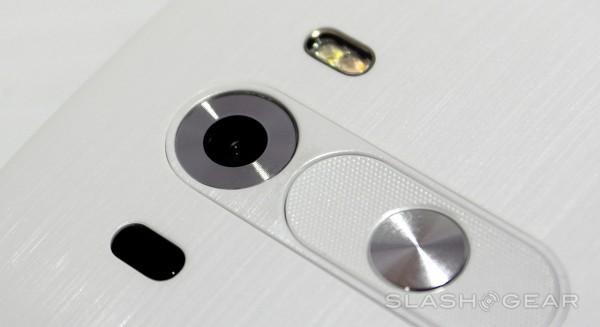 Thus far we've found the experience to be similar to that of the HTC One (M8) as far as quickness in focusing in all arenas. While we've not gotten entirely scientific about our tests, real-world experience shows blur in photos and natural shakes to be the same as other top-tier smartphones today.
Above and below you'll find some demonstrations of the power of the LG G3's camera setup. You'll find the photos to be clear and sharp, and video to be amongst the best we've captured this year with a phone.
Here you're also seeing the quick-fire abilities of the LG G3 as well. Watch this chicken walk. Walk, chicken, walk.
Battery Life
With the Qualcomm Snapdragon 801 at the helm, you've got battery conservation powers the likes of which we've never seen before. Until we get the USA-based version(s) of the LG G3 we'll not know for sure, but for now it seems like we'll be rolling with well over a day's worth of battery life no matter what we're doing on the device.
Standby time on the LG G3 appears to be amongst the best we've ever seen as well. Above you'll see a wide variety of battery life screenshots, all from the LG G3 in its international iteration. If the LG G3 works with a Qualcomm Snapdragon 801 when it comes to the USA as well, likelihood of a best-in-class battery life is extremely high.
Wrap-Up
There's no reason why LG shouldn't be running with the pack with their G-series smartphones with HTC, Samsung, and Apple in the United States. Unfortunate for them, Samsung has the advertising finesse required to show themselves off as the fine-quality hardware creators they are, while LG seems to stand by the wayside.
But listen up, if you need motivation: LG makes an extremely fine phone. The LG G3 brings the finest Android has to offer with robust hardware without frills. It's a solid phone well worth the cash you're going to lay down on it.
If there was ever a time LG was ready to take on its opponents in the smartphone hardware world based on in-hand experience alone, it's now.