LG G3 benchmarked: Snapdragon 801 on call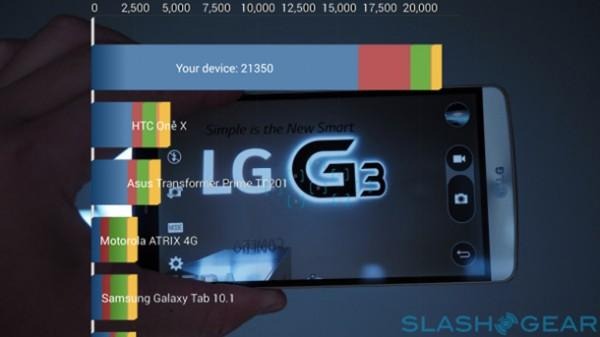 We've got our hands on an international edition of the LG G3 this week ready for action with the Qualcomm Snapdragon 801. This is a quad-core processor with a clock speed of 2.5Ghz. This is the MSM8975AC Snapdragon 801 paired with an Adreno 330 GPU, ready to roll with Android 4.4 KitKat inside.
This smartphone works with a 2560 x 1440 pixel display – that's Quad HD, or four times the pixels of a standard 720p "HD" display. This means the processor has to work harder than it would if the display were less dense. In this case it also means that, given the display size and density, a lesser processor wouldn't be up to snuff.
This devices works with 25GB of internal storage – with 17.75GB available out of the box. You'll also be able to work with a microSD card slot – we've not yet inserted one – that can carry up to 128GB of additional storage space.
In the benchmarks you see above and below, you should take note that this device is not working with its final release software build. Until it's time for the device to go on sale, we'll have to rely on these bits and pieces to tell use where we stand in a very, very general way.
As with all benchmark tests, you'll want to take note that everything is relative. The only real value in these tests is in testing one device against itself with different software configurations, as all different phones work with benchmarks in different ways.
In the end, the value of these benchmark tests is in entertainment. You can see quite plainly that this LG G3 is ready to take on these tests and blow them away entirely in most cases – this means you'll be ready to run every Android app on the Google Play app store with ease.
Have a peek at our full LG G3 hands-on from earlier this week. Also stick around and see our full LG G3 review sooner than later!