LG G2 official: near-borderless display up front, buttons on the back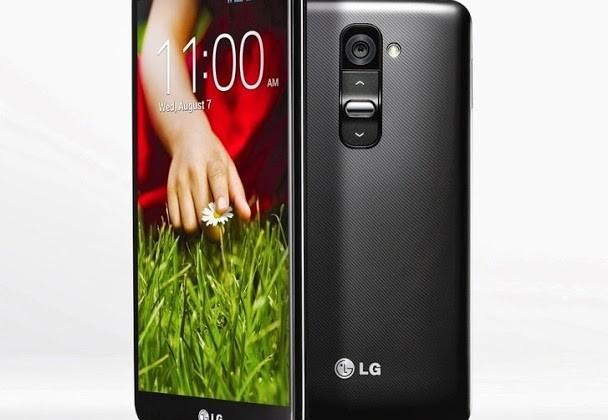 Today LG makes the LG G2 official, showing this next-generation device to be coming with what looks to be the closest-to-borderless display up front that a smartphone has ever been delivered with. This smartphone is made to be thin: so thin that the power and volume buttons traditionally situated around its edges have been pushed to the back entirely. That means its camera sits up high, while directly below you've got a power button and volume up and down.
This smartphone is LG's 2013 effort to combat the rest of the hero smartphones in the industry. That means coming up against the HTC One, the Samsung Galaxy S 4, and the Motorola Moto X. While it'll easily hit the mark for specifications – display, processor, innovative form factor physically, we'll be seeing today if LG is up to the task of bringing on a full-fledged software ecosystem to match.
While the HTC One continues to be cheered on for its full metal jacket, top-tier camera experience, and solid software environment within, Samsung continues with their ever-expanding home-grown wireless connectivity collection with the Samsung Galaxy S 4, complete with a tried-and-true formula for hardware (despite the screams and yells of the technology news community for light plastic). Moto X is coming up as a new experience with slightly less-than-best hardware specifications and a next-generation collection of context-specific software features.
Coming to power this device under the hood is a 2.3GHz quad-core Qualcomm Snapdragon 800 processor with Adreno 330 graphics and 2GB of RAM – we'll be seeing a whole lot more on how it's implemented, soon!
UPDATE: Specifications in brief:
- Processor: 2.26GHz Qualcomm Snapdragon™ 800 featuring quad Krait CPU
- Display: 5.2-inch Full HD IPS (1080 x 1920 pixels / 423 ppi)
- Memory: 32GB / 16GB
- RAM: 2GB LPDDR3 800MHz
- Camera: Rear 13.0MP with OIS / Front 2.1MP
- Battery: 3,000mAh
- Operating System: Android Jelly Bean 4.2.2
- Size: 138.5 x 70.9 x 8.9mm
- Colors: Black / White
Below you'll find a timeline of LG G2 articles that'll be expanding as we get closer and closer to a full-fledged peek at the device. Feel free to stick around the post you're in right now to see the list grow, or head out to SlashGear's main news feed to see it all happen from the front lines!