LG G2 display detailed: 5.2 inches and near-borderless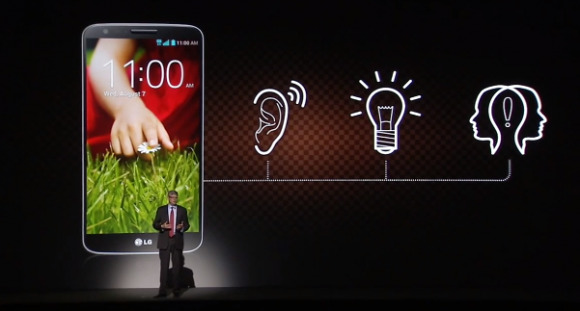 The LG G2 is being delivered to the public this week at an event where LG has, first and foremost, made it clear that they're no to be beaten in the display department. With the LG G2, the user will be working with a 5.2-inch display working with "True FHD". What LG means when they say True FHD is a more "true" version of Full-HD at 1920 × 1080 than competing smartphones that work with Pentile technology.
The LG G2 works with an effective display area of 75.9 percent – that means that 79.5% of the front of the phone is utilized by the display itself. This is helped greatly by the fact that the LG G2 does not work with any physical or capacitive buttons up front – they're all on-screen.
The LG G2 works with just 9.6mm of space above its display, 12.9mm below, and 2.65mm of border on both its left and right sides. Brightness on the LG G2's display is kicked up to 450nit. That is – for comparison's sake – 150nit brighter than the Samsung Galaxy S 4.
With a Qualcomm Snapdragon 800 processor under the hood, the LG G2 works with processing power well beyond that of the HTC One or Samsung Galaxy S 4 (unless you're talking about the Samsung Galaxy S4 LTE-A, which uses that same processor). Riding side-by-side with this SoC is a far lower use of GRAM, aka Graphic RAM – LG states that the LG G2 works with what they're calling a "Low-Power Display", here coming in at a 26% reduction in RAM usage compared to "conventional" solutions.