LG is one of the first onboard with Android Wear, and the G Watch is its first gambit in Google's new smartwatch segment. Unlike the flashier Samsung Gear Live, and the eye-catching – but not yet available – MOTO 360, the G Watch has taken a more discrete route to the wrist. I've comprehensively reviewed Android Wear separately, so this review will focus on the G Watch's own particular strengths and foibles.
Hardware and Design
Google is keeping a relatively tight rein on Android Wear, leaving little room for differentiation when it comes to hardware. The G Watch splits from Samsung's Gear Live in three key places: overall design, screen, and battery.
LG has opted for a squared-off aesthetic for its first Android Wear device, finishing its stainless steel body in either black or gold with a matching rubber strap. In many ways it feels more like a reference design or developer device, with its simple straight lines. The strap is a standard 22mm watch band, for easy replacement.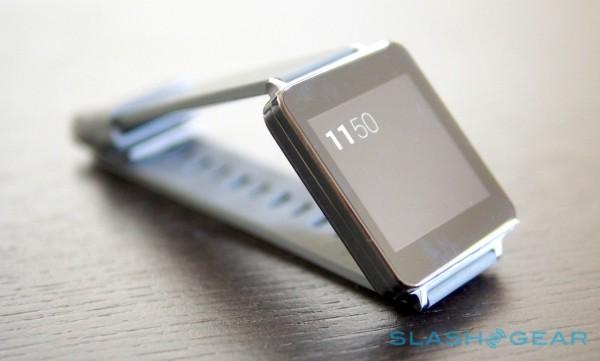 Without physical controls (bar a well-recessed reset button on the underside) all interaction is via the 1.65-inch IPS LCD display. It's a screen LG Display specially made for the G Watch, running at 280 x 280 resolution for a 240ppi pixel density. Color saturation isn't quite as vivid and eye-catching as the AMOLED on the Gear Live, I've found, but the LG fares a little better outdoors, though direct sunlight is still the enemy of visibility.
Inside, there's a 1.2GHz Snapdragon 400 processor with 512MB of RAM, 4GB of storage, and Bluetooth 4.0. LG also finds space for a 400 mAh battery, larger than the pack in the Samsung, which recharges using a magnetically-attached cradle rather than a microUSB port on the watch itself. That helps keep the G Watch water-resistant.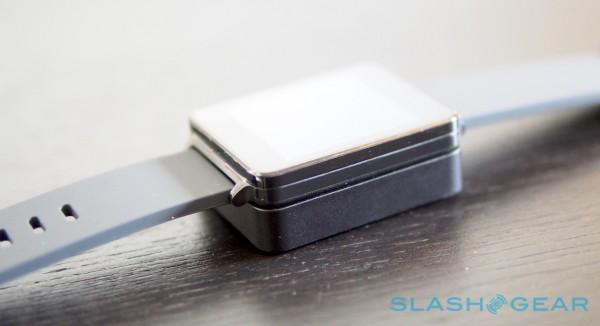 The cradle has a self-adhesive patch on the bottom, keeping it in place on your nightstand or desk, however I opted not to stick it down so that I could recharge on the move if necessary. One odd limitation is that you can't actually turn the G Watch on without the cradle (and a connected power supply).
Comfort and Battery Life
LG's design may be square but my wrist is curved, and that left me with comfort issues over the course of the day. Even just a gentle curve on the rear of the 9.95mm thick case would make a difference. The face's 37.9 x 46.5 mm dimensions mean that it's relatively narrow, so I didn't find myself knocking it around too much, thankfully. It's also noticeably lighter than you initially expect, at 63g.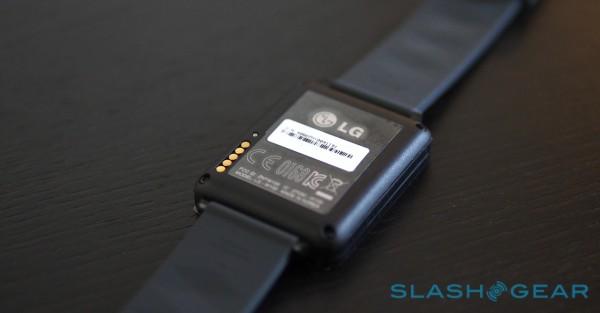 Up to 36 hours of standby is promised from the battery, though actual runtimes are highly dependent on how often you use the G Watch and what Android Wear functions you're taking advantage of. Used primarily for managing notifications, including several highly active Google Hangouts chats, I got comfortably more than a full day from the G Watch.
However, navigation and voice commands are more demanding, though I never ran out of juice before the day was through.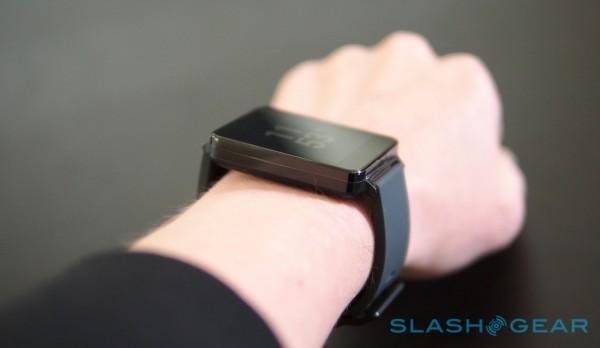 Wrap-Up
At $229, LG's smartwatch is $30 more than its Samsung rival, and you have to particularly want some specific features in order to justify that difference. Comfort levels could be higher, and the strap is something most will probably want to replace for aesthetic reasons, though both it and the G Watch's body feel tough and sturdy.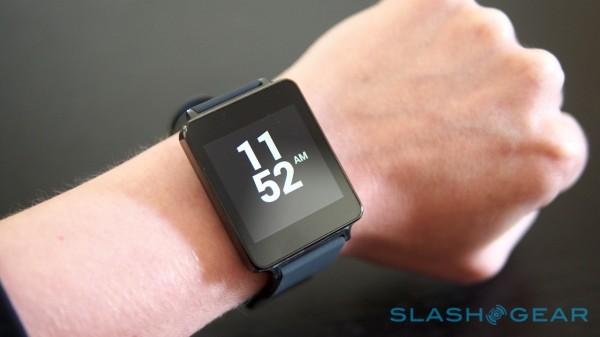 Outdoors, the G Watch's display has the edge, though indoors I preferred the AMOLED of the Samsung; LG's LCD is also lower-resolution. You get better battery life, mind, and the LG charger is easier to use.
Overall, then, it's certainly discrete but not quite handsome. If LG could bring the G Watch under the $200 point there would be a clearer argument for it, but the fact that the Android Wear experience is effectively the same no matter the model makes price a bigger contributing factor. Out of the gate, LG makes a solid first attempt, and Android Wear has its definite strengths, but Samsung's greater recent experience making smartwatches shows its worth.