LG G Vista leak: disappointing specs, coming to AT&T too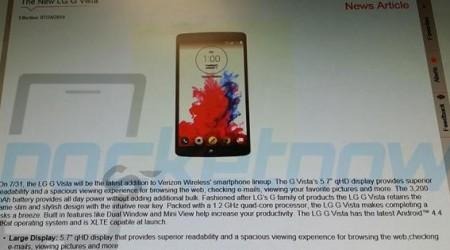 Whatever hopes there were that the LG G Vista would be a rebranded G3 Beat or G3 S for the US, might be dashed by these two latest leaks. Although one good thing does come out of it is that instead of being a Verizon exclusive that it was rumored to be, this mid-range smartphone might be available from AT&T as well for those who might want to grab it.
The 5.7-inch screen will immediately tell you that this is no G3 mini. Compared to the LG G3's 5.5 inches, this could very well be considered the G3 Max. But even so, the qHD display, meaning 960x540 pixels, is quite disappointing even for a less powerful giant variant. The G Vista, according to this internal Verizon document, will be powered by a 1.2 GHz quad-core processor and will run on a large 3,2000 mAh battery, which should be decent considering how underpowered the device will be. At least it will be running Android 4.4, hopefully with LG's special software, and will sport the same physical design as the G line of premium devices, meaning rear button controls.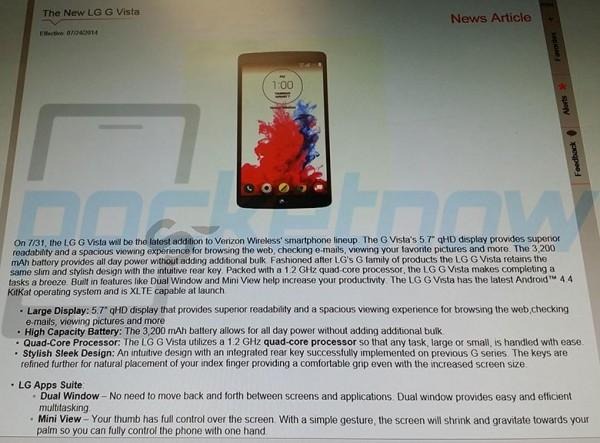 Word that the G Vista will be coming to AT&T comes via a leaked user manual for a certain LG G Vista model D631 and this device a tad more interesting than what seems to be on Verizon's shelves. The same 5.7-inch screen adorns the smartphone but now has a more acceptable 1280x720 resolution. It has the same 1.2 GHz quad-core processor, possibly a Snapdragon 400, but there seems to be some disagreement with the RAM, with AT&T's version bearing only 1 GB while Verizon has 1.5 GB. AT&T's model also has a 3,200 mAh batter and likewise runs Android 4.4. What is interesting in the manual is the images that point to the new laser autofocus system that debuted on the LG G3.
The LG G Vista was once rumored to launch on Verizon July 18, but now the date has seemingly been pushed to July 31 instead and we can expect AT&T to out its own version around that time. That is, if it they're the same device. We've seen variants of the same brand or model before, but the differences between these two rumored carrier versions are a bit too divergent. We can presume that there is really only one set of specs for the G Vista, and hopefully it will be the one with the best combination of features.
VIA: Pocketnow, My LG Phones