LG G Pad X 10.1 released to AT&T with 4G LTE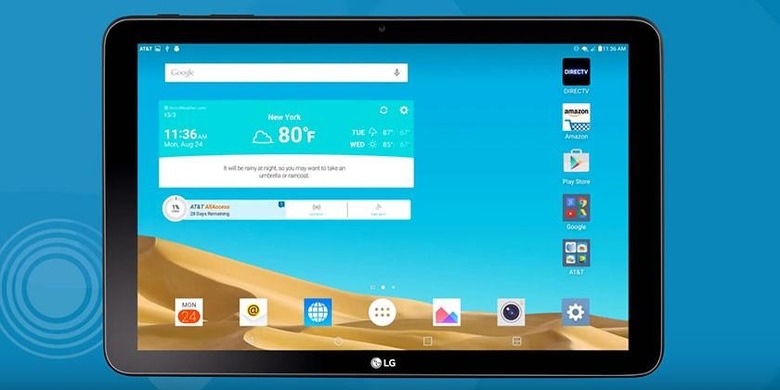 AT&T will be releasing the LG G Pad X 10.1 with 4G LTE data speed to their network on the 4th of September – this Friday. This device works with relatively modest specs, including a 10.1-inch full HD display (that's 1080p), and 32GB of internal storage. The big promotion point for AT&T and LG on this device is its inclusion of the DirecTV app on the device right out of the box – though, technically, you could just download the app from the Google Play app store on the tablet you already own, really.
This device comes with either the Qualcomm Snapdragon 800 or 801, clocked at 2.26 Ghz per core for each of its 4x CPU cores with 2GB of RAM. In short, that means this device has a processor at least as powerful as the LG G4, one of the most powerful smartphones in the world today.
While you'll probably not be wanting to take all that many photos of videos with this large tablet, there is a 2MB front-facing camera for online video chat as well as a back-facing 8MP camera with auto-focus.
We won't expect it to live all the way up to the grandeur of the LG G4 – but we'll see!
You'll find 32GB of internal storage and a microSD card slot capable of handling cards up to 128GB large. This device has a 7,400mAh battery under the hood which, when you consider the relatively tame density of the display, should mean an especially long-lasting day's worth of uptime.
This device will be in stores at AT&T this Friday. The LG G Pad X 10.1 will be available for $17.50 per month for 20 months with an AT&T Tablet Installment Plan, or you can buy the device for $249.99 with a 2-year agreement. This device can be added to a new or existing Mobile Share Value Plan for an additional $10 per month access charge.
Below you'll see a feature video on the tablet by AT&T. Stay tuned for SlashGear's hands-on, coming soon.