LG G Flex curved smartphone appears in photographs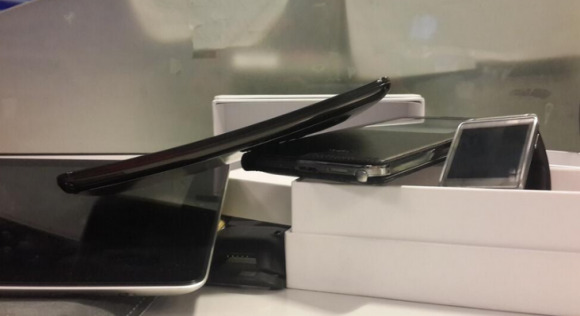 Earlier this month, it was tipped that the LG G Flex curved smartphone will be appearing next month, and a short while later some renders of the handset appeared, showing a gently curved phone that could cradle one's face. As it turns out, that render was accurate, with photographs of the actual handset appearing today on Twitter via journalist Federico Ini.
The phone was on display via Telefe in Argentina, where it was photographed and recorded on video. In it, we see a black handset that curves inward with buttons on the back of the device alongside what appears to be a slight pinstripe design on the rear panel. Aside from that, not much can be seen, although there are some other phones scattered around the photo to help give reference for the degree of curvature.
The LG G Flex is said to feature a 6-inch OLED display, and along with the rear buttons is a 13-megapixel camera with a sensor and flash on each side of the lens. The smartphone hasn't been officially rolled out yet, and as such the phone's specifications aren't yet known. According to Ini, who spoke to The Verge, the phone will arrive in South Korea next month, but isn't slated to arrive in the US, Europe, and elsewhere.
This follows the unveiling of the Samsung GALAXY Round smartphone, which is curved in a different way than the LG G Flex and features software functions to take advantage of its ability to "roll". This particular phone features a 5.7-inch Full HD Super AMOLED screen and a soft backing. Not all the details on the Samsung smartphone are available right now, either.
VIA: The Verge
Images via Federico Ini