LG G Flex 2 hands-on - A curveball keeper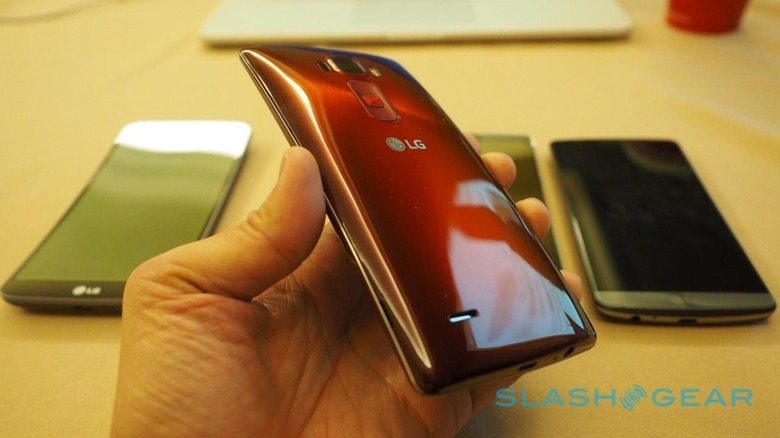 I guarantee that the first time you hold the LG G Flex 2 in your hand, you're going to ask yourself why aren't there more phones with a curved display. And that's LG's hook. Instead of making you read this entire hands-on to really know how I feel about the G Flex 2 (though, you know, you really should read it anyway), I'm going to just come right out and tell you that it's beautiful to look at and it's beyond comfortable to hold. I'm not just saying this just because this is another new device coming to market but because, for the first time in a while now, I feel that LG has hit a home run.
The first G Flex was okay but man did it need a ton of improvements. So what're the core differences between it and the new G Flex 2? The first is obviously the size: you'd really need massive hands to properly hold and use the G Flex. That's not the case with the G Flex 2.
In fact, at 149.1 x 75.3 x 7.1-9.4 mm and 152g it'll even make the iPhone 6 Plus feel like it needs to go on a diet. The newly enhanced design offers a the same curve but enhanced to look more modern. The improved self-healing rear panel treatment is much faster – so much faster that, during LG's demo, you can barely see the scratches. According to LG mobile chief Dr. Woo, the self-healing process should be done within 10-seconds.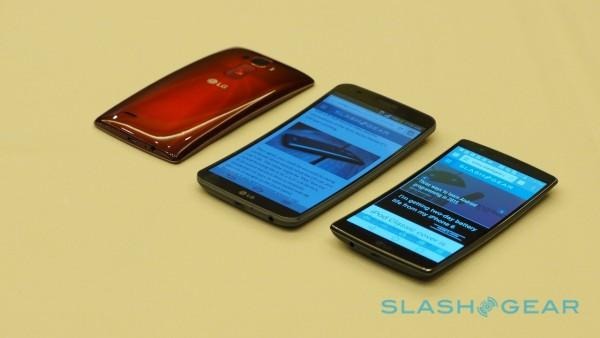 My biggest complaint with the original G Flex wasn't just its massive size but the underwhelming 720p display resolution and, more annoying over time, the burn-in which could leave graphics stuck on-screen. Dr. Woo assured me those days are over, and the new 5.5-inch Full HD POLED display offers 403 ppi versus vs 401 ppi on the iPhone 6 Plus and 326 ppi on the iPhone 6.
Curved gadgets still aren't commonplace, and the first impression I had of the G Flex 2 was "how in the world is this device sporting a 5.5-inch display?" It's a great screen, but more than that it's been fitted into a really hand-friendly form-factor. In fact, the phone is 8-percent shorter and 15-percent thinner than its predecessor, the main victim of that being the slightly smaller curved battery, measuring in at 3,000 mAh.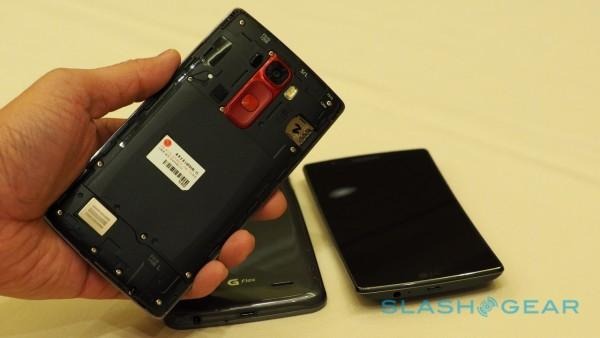 It's a tougher phone, meanwhile. The layered internal design was reworked to make the G Flex 2 better at absorbing the impact sustained from accidental drops, while LG took Corning's Gorilla Glass and gave it a specially-created treatment in-house to make it 20-percent more durable and stronger.
According to Dr. Woo, while regular Gorilla Glass is tough in the center, the edges are much weaker. LG's process bonds a new chemical compound to the edges, improving their resilience; as far as the company knows, it's the first to use it.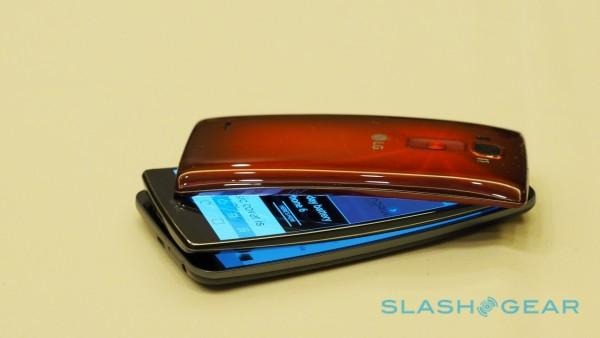 On the back, meanwhile, there's an updated version of LG's self-healing treatment, changing the molecular structure of the slightly soft-touch panel so that the sort of scratches from keys or table grit can be brushed off without issue.
Inside, there's Qualcomm's Snapdragon 810 64-bit octacore, paired with either 2GB or 3GB of memory – location depending – and either 16GB or 32GB of storage. A microSD card slot has been added as well, compatible with up to 2TB cards. Connectivity includes LTE – good for up to 300 Mbps, on South Korean networks at least – along with WiFi a/b/g/n/ac, Bluetooth 4.1, USB 2.0, and NFC.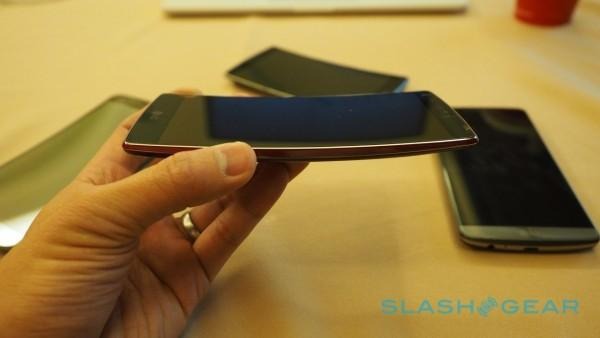 The battery may be slightly smaller – the original G Flex found space for 3,500 mAh – and it's still non-removable, but it should charge faster this time around. LG has included step-charging up to 2.6A, with the power adapter now supporting up to 9V or 5V and switching between them automatically. According to LG, the G Flex 2 can be charged from flat to 50-percent in 40 minutes.
LG has been pushing its photography abilities in recent phones, and the G Flex 2 doesn't miss out there either. The main camera packs 13-megapixels and OIS+, along with a faster version of the laser autofocus (LDAF) we saw on the G3. A dual-flash mixes white tones for more natural colors; it's not the first time we've seen that on a phone, but it's a welcome addition all the same.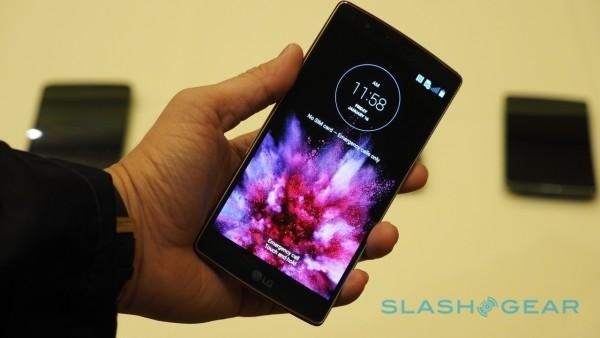 On the front, meanwhile, there's a 2.1-megapixel camera, and LG has thrown in its Gesture Shots software to make taking selfies easier. Hold your hand up in front of the phone and it knows to track it: lifting it fires off a shot, and lowering it shows you a preview of the results.
That's not the only software modification to Android 5.0 Lollipop. Glance View tries to finesse the scrolling and tapping experience for a curved touchscreen, dragging time, date, and any recent notifications into view if you swipe a thumb down while the display is off. The G3's adaptive software keyboard gets ported across, as does the Smart Notice and Smart Bulletin features.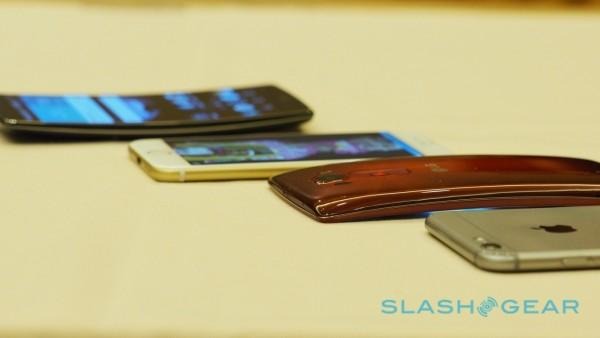 Android Wear has been accommodated more directly, too, with seamless linking between not only LG's own G Watch range, but other models like the Moto 360 and ASUS ZenWatch.
In all, it's a comprehensive and considered upgrade, and it feels like LG truly listened to feedback from users and reviewers of the first-generation phone and tried its best to address the complaints with the G Flex 2. The list of cons is certainly smaller this time around: I'd like to have seen more onboard storage, for instance, at least as an option, though a memory card slot does help.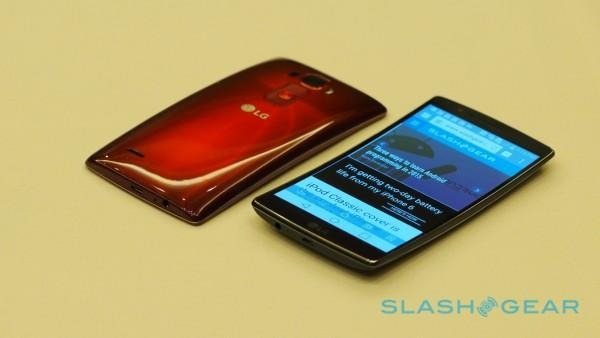 The biggest advantage is the size change, though. LG bucked the trend of phones getting bigger, and by shaving half an inch from the display – while improving its resolution in the process – actually using the G Flex 2 single-handed becomes a real possibility, the curve allowing your thumb to cleanly sweep from top to bottom. It honestly turns the flex from a gimmick to a legitimate advantage.
The LG G Flex 2 will go on sale at the end of January 2015 in South Korea, available in Platinum Silver and Flamenco Red. Availability and pricing for the US and other countries is yet to be announced.