LG Eve (aka GW620) arrives on Rogers Wireless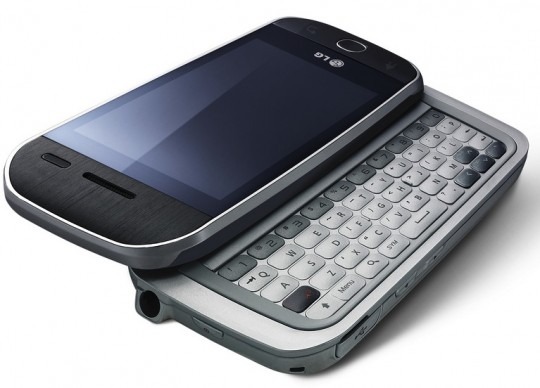 Remember the LG GW620, the QWERTY slider Android smartphone that rocked up with its own mini-site last week?  The handset has now made its way to Canada for a debut as the Rogers Wireless LG Eve, promising a Social Network Services (SNS) Manager that pulls together Twitter, Facebook and Bebo updates, a 5-megapixel autofocus camera and – stealing a jump on the Sony Ericsson XPERIA X10 – automatic face recognition tying images into contacts entries.
There's also a 3-inch resistive touchscreen of course, and a 5-row hardware keyboard, together with quadband GSM and triband HSPA connectivity (at least, according to the product page; the tech specs only list 850/1900 support).  The Eve gets WiFi, Bluetooth, GPS and an accelerometer, together with a microSD slot and a 2GB card in the box.
Rogers are promoting the LG Eve as the "ultimate smartphone for social networking", something we reckon Motorola and HTC might argue with, but we'll have to wait until the first reviews in order to see whether that's accurate or otherwise.  The LG Eve is on sale now at Rogers Wireless stores from $49.99 with a three-year agreement (voice and data); it's currently listed as out of stock online.
Press Release:
Our Social Network Just Got Bigger: The LG Eve Makes Its Global Debut in Canada Exclusively at Rogers Wireless

LG and Rogers Launch the Ultimate Smartphone for Social Networking

MISSISSAUGA, ONTARIO and TORONTO, ONTARIO–(Marketwire – Nov. 3, 2009) – LG Electronics Canada and Rogers Wireless today announced a world first: the LG Eve, a new Android OS-based smartphone designed specifically for social networking, is now available exclusively at Rogers. The LG Eve provides customers with the freedom of mobile social networking, making it easier to stay connected anytime, anywhere.

The ultimate smartphone for social media enthusiasts, the LG Eve features a special application called Social Network Services (SNS) Manager, which brings together a user's Facebook, Twitter and Bebo networks into one place, letting them check status updates in real time. The SNS Manager takes social networking to a new level by connecting the contact list to provide an easy to read log for each contact, so the user can see the contact for each friend, whether that be via SMS, email, Facebook, Twitter or on a call.

Additionally, the LG Eve features push email, which keeps users constantly in touch by alerting them if a new message arrives to a personal email account, such as Gmail.

"The LG Eve is the smartphone that social networking fans have been waiting for, and we're so happy to bring it to Canadians before any other market," said Colin Bettam, vice-president marketing, LG Electronics Canada. "Whether it's managing your Facebook page or downloading one of the thousands of applications, the LG Eve lets you connect to your world, your way."

"As a company with a long history of bringing best-in-class handsets to the Canadian market, Rogers is delighted to be the first carrier in the world to offer our customers the LG Eve," said John Boynton, Executive Vice President, Marketing, Rogers Communications. "The LG Eve is a smartphone customized for people who love to social network and browse the web. Coupled with Rogers' HSPA network, the LG delivers a truly phenomenal web experience. Another first, only from Rogers."

The SNS Manager leverages social networking by putting a person's address book contacts as the central reference and launching point for a variety of social media tools.

Also designed for easy social networking are the 5 MP camera for taking high quality pictures that you can view and edit on the LG Eve's 3-inch touch screen, and the 5-line QWERTY keypad, which is ideal for email and messaging. Additionally, the LG Eve features a Face Recognition application which means that once a person is tagged in a saved photo, the device will automatically recognize the person's face and tag him or her in other photos.

Once a person is tagged in a photo, a click on their photo will allow for instant communication with that person via text, email, phone or chat.

Other key features of the LG Eve include:

- Threaded SMS, which groups SMS texts by sender and displays them like a message board for easy-to-follow reading

- A 3D gallery for viewing and sorting photos, with the ability to quickly and easily find photos by tagging favourites or using the filtering tool to sort photos by tags, face recognition or date

- 5 line QWERTY keypad

- Advanced Video Recording and Playback, which allows a user to play videos or make their own videos using built-in editing tools, which can then be uploaded onto social networking sites or sent to friends via email.

– Video Recording: MPEG4,H263@QVGA24fps

– Video Playback: MPEG4, H264 @ HVGA 24fps, WMV, DviX

- Advanced Camera Features:

– 5 Mega Pixels AF (with LED Flash)

- Audio Codec:

– MP3, AMR, AAC, AAC+, WAV, WMA

- Data Connectivity

– USB 2.0 HS

– Micro USB

– Bluetooth 2.0 EDR

The LG Eve will officially launch at the newly opened LG Experience Zone at the Air Canada Centre on November 3rd, prior to the Toronto Maple Leafs vs. Tampa Bay Lightning hockey game. The LG Eve is available at Rogers for $49.99 with 3 year voice and data activations.