LG EA73 UltraWide LED Monitor Review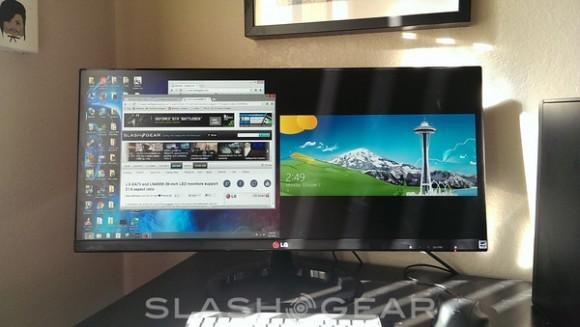 We've got our hands on one of LG's newest in IPS LED display technology here in the LG EA73, one of two such displays with "Ultra Wide" aspect ratio of 21:9 right out of the box. This 29-inch display is made to be of the highest caliber on-desk displays on the market today, offering up 2560 x 1080 pixel resolution and a helpful and (at first) seemingly odd collection of features. Need to connect two different devices to the same monitor and dedicate half the display to each device? This monitor can do that.
While for the most part we've been using this display as a second of two homescreens for a massive gaming setup, you'll find a wide variety of odd use cases made plausible here with LG's big push to advance the desktop display universe. The first one is the ability to run two machines through this same monitor at once.
This is called Dual-Link Up and it works like a snap. Once you've got two devices connected, they're treated as separate machines for the purpose of aspect ratio, color, and everything from the CPU side of things. Each of the two devices is given half the display, and both react as quick as the computers that connect allow them to.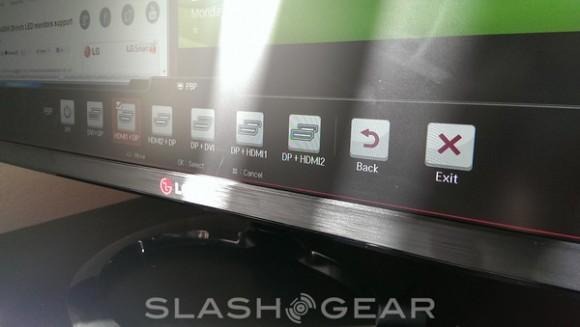 We've not found a whole lot of use cases for this feature, but it's certainly nice to see it working as well as it does here – connecting NVIDIA SHIELD to one end and a desktop computer to the other has been particularly rewarding for multitasking (or multi-gaming, as it were).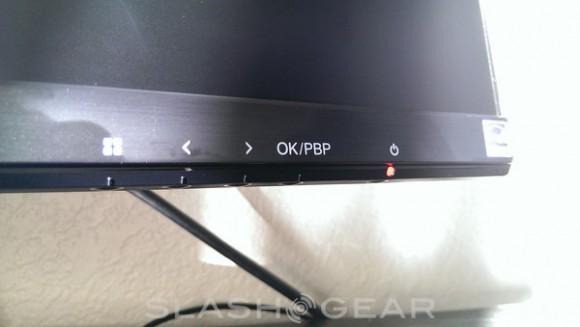 Display-side controls are relatively intuitive, being controlled with touch-sensitive nubs on the right underside of the monitor – here you'll be able to tell the display basics like sharpness and whether or not to use Dual-Link Up.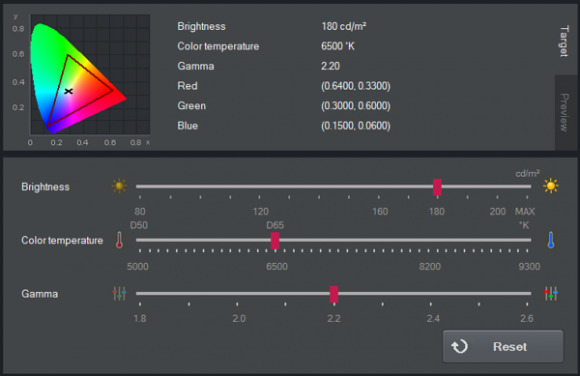 Meanwhile onscreen color control is provided by software by the name of True Color Finder. Provided by LG, True Color Finder allows you to do instant calibration (automatic, that is), or tiny tweaks in the realms of Brightness, Color temperature, and Gamma. This system has proven itself to be highly accurate and great for switching between gaming and video, in-office work and everyday web browsing (when the need strikes).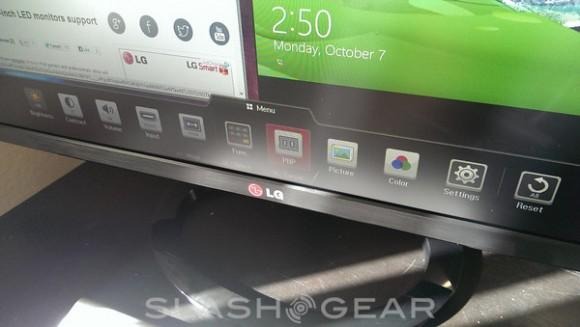 Similar to Dual-Link Up you'll also have 4-Screen Split. This system allows you to effectively run four separate displays on the same screen, bringing on quick snap-to windows in a variety of configurations. You've got 3:2, 1:1, 2:1:1, and several others to work with as well. This is the sort of functionality you don't realize you want until you've actually got it.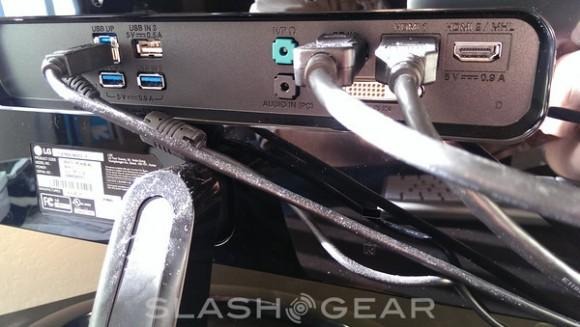 On the back of this display you'll find that you've got the ability to roll with MHL, HDMI, DisplayPort, DVI/D, and the green and black ports of Audio In (PC) and H/P for sound. This unit works with 7W speakers built-in, too, so you'll not need additional 3rd party speaker support right out of the box.
You'll also find four USB-ins, bringing on another variety of use-case possibilities. You'll also find the power port here ready for wall connection. This monitor will run you a cool $599.99 USD right this minute – then there's the LN450W which is essentially the same display with a TV tuner – that'll run you $649.99 – all yours.