LG Display Unveils World's First Quad HD AH-IPS LCD For Smartphones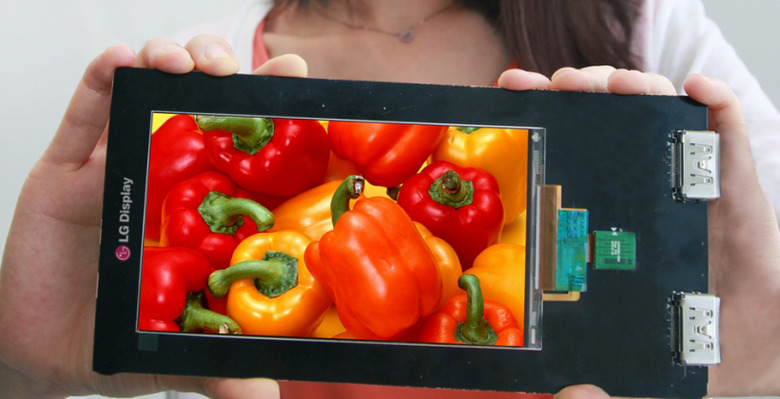 LG Display has announced the creation of the world's first 2566 x 1440 panel for smartphones, a Quad HD AH-IPS LCD. This massively high resolution accompanies a 5.5-inch panel, giving it a 538ppi. As such, says the display maker, this is both the highest resolution and the highest pixels per inch of any mobile display created thus far.
The Quad HD brings clearer images than what you get with the common 1280 x 720 resolution found on many handsets, something LG Display says results in "more delicate colors" in addition to better contrast and vividness than smartphones currently offer. All of this culminates in images that are said to be both more crisp and life-like, as well as video quality that is Blu-ray equivalent.
Furthermore, the Quad HD panel is said to provide users with a full view of Web pages that is equivalent to what you get on a PC, no distortion or clipping present. Comparing this with Full HD displays, current users would only get access to about three quarters of the full screen experience, leaving a full quarter to be desired. Obviously, this has benefits for zooming in content.
Text is sharper on the Quad HD than on Full HD (and lower) displays, for example. Such a creation comes at a time when demand for larger screens is increasing in the market. The research firm DisplaySearch estimates that LTPS-based handset displays will hit a record of 765 million units being shipped in 2014, something fueled by desire for not only larger screens, but also higher resolution and lower power consumption.
As far as size goes, the panel is 1.21mm thick, and has a 1.2mm bezel in LCM, also earning it the titles of slimmest and narrowest available. The 5.2-inch Full HD panel that LG released last month, for example, is 12-percent thicker than the Quad HD.
Vice President and Head of LG Display's IT and Mobile Development Group Dr. Byeong-koo Kim said: "LG Display, which pioneered the high resolution mobile market with introduction of the world's first Full HD smartphone panel in 2012, again opens new possibilities with the successful application of QHD technology. With this breakthrough, LG Display will continue to raise new standards for mobile resolution and lead the mobile display market."