LG "connected" Blu-ray player BD370 now on sale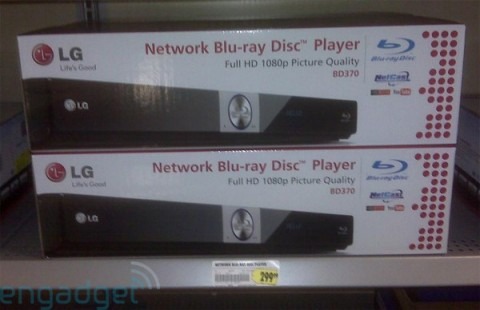 Last month we reported the newly announced LG "connected" Blu-ray Players could deliver earlier than expecting, and here it's; one of them, the BD370 is spotted at major retailer for $299.
For feature, the LG BD370 covers most of the Blu-ray basic from BD-live/Profile 2.0, Full HD, advanced HD audio decoding with integrated 7.1 channel audio outputs, to network connectivity featuring both Wired and WIFI hub.
What sets it apart from competition is its Netcast entertainment system that's offering not only the existing Netflix movie streaming, but the ability to stream CinemaNow and YouTube online content with plan to include Yahoo! Video. Nothing ground-breaking here though, there are plenty of online streaming step-top boxes out there from Tivo, Vudu to Xbox 360, but the LG gets your an extra Blu-ray desk at $299. It's a sweet deal!