LG Blu-ray BD370 to ship early than expected?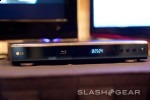 LG Electronics dished out a pair of "connected" Blu-ray players, LG BD370 and LG BD390, at CES 2009 with estimated shipping date of Q2 and Q3 respectively for US region, but decent debut in Japan with imminent release suggests US buyers may get their hands-on early than expected.
Both BD370 and BD390 feature LG's "NetCast Entertainment Access" with ability to stream online video contents from CinemaNow, YouTube to the growing collection of HD streaming titles from Netflix. The former appears little changed from current BD300 model while the latter offers better performance with a host of upgrades from a built-in WiFi, 1G of onboard permanent memory and 7.1-channel analogue outputs. Both players have not formally priced out, but are estimated to get $299 and $399 prices release, respectively.
We've seen Netflix support added to the game console Xbox 360, TiVo DVRs and Blu-ray decks from Samsung, and the latter has added another pair of BD-P4600 (wall-mountable) and Bd-P3600 with additional Pandora network access. If you're planning to get a "connected" Blu-ray, both the LG BD390 and Samsung BD-P4600 are one to watch.