LG BD300 Blu-ray player with Netflix and network streaming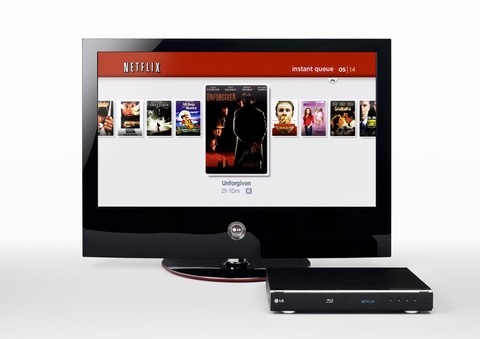 LG have taken the wraps off of their upcoming Blu-ray player, which also includes Netflix instant streaming.  Aside from watching high-definition Blu-ray discs, users can also browse Netflix's catalogue of over 12,000 titles for instant viewing together with playing back media and images stored on a home network (via the ethernet connection) or on an attached flash drive (thanks to the front-panel USB port).

The BD300 is also capable of upscaling standard-definition DVDs to 1080p.  Profile 2.0 is supported, which means compatibiliy with BD Live, Bonus View picture-in-picture and other interactive functionality (some of which may take advantage of the BD300's internet connection).  LG are keeping quiet on full cnnectivity, though it's known that the BD300 has "Dolby TrueHD support".
According to Crave, who spent some hands-on time with the BD300 last night, the system works pretty much identically to that offered by Roku's Netflix adapter.  They also criticised its ethernet-only connectivity, where the Roku offering has WiFi.  LG expect the BD300 to launch this Fall, priced at "under $500".