LG Cloud looms for 2D/3D multimedia streaming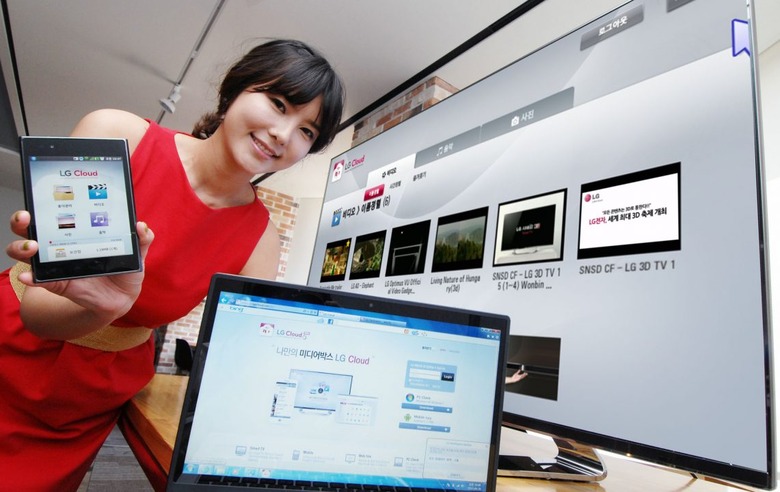 LG has revealed its own multi-platform cloud media service, LG Cloud, squirting content between PCs, smartphones, tablets and smart TVs. Compatible with 2D and 3D content, the LG Cloud introduces the company's Real-time Streaming Transcoding technology to perform server-based media conversion to suit whatever device you're currently using; so, if you're on your Android smartphone but want to watch a Full HD .MKV file, the film will be automatically converted to suit the handset.
"Most companies today only see the cloud as a storage device or in the case of YouTube or Flickr, only for one type of content," new LG Cloud chief Havis Kwon said of the service, conveniently overlooking Apple's iCloud. "LG makes the devices that millions of people watch content on so we can set a new yardstick for ease of use by setting up our own cloud service. Tomorrow's consumers don't want to go to one cloud for music, another cloud for video, another location for photos and yet another cloud for their office files. In the end, our solution is about making life more convenient."
Rival-myopia aside, LG is hitting all the early bases with the new cloud service. Apps are available for Android – LG Cloud - as well as from the LG SmartWorld store on LG Smart TVs, together with PC apps from the LG Cloud site. Content on a phone is automatically synchronized with the cloud server, along with the user's PC and TV, with LG claiming newly-shot photos and video are available to watch "almost instantaneously" remotely.
Meanwhile, videos edited on a PC can be uploaded to LG Cloud for viewing "seconds later" from a smartphone or tablet. LG uses streaming rather than downloading so as to begin playback as soon as possible.
Both free and paid versions of the LG Cloud will be offered, with pricing and free storage depending on market. Initially, LG is offering 5GB of free space for Korean users – matching Google Drive - with 50GB of extra space for six months for those buying LG phones or smart TVs.