LG CINEMA 3D LW5700 HDTV certified flicker-free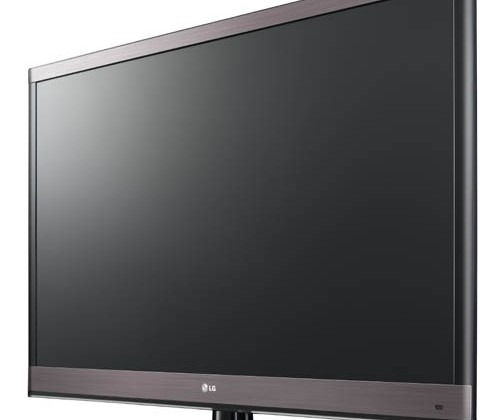 LG's CINEMA 3D LW5700 TV has gone on sale, though you'll need to live in Korea in order to pick one up. The first third-party endorsed "flicker free" 3D set – with Intertek and TÜV wading in to say it's easier on the eyes – the LW5700 promises to "practically eliminate" dizziness or eye-fatigue while watching 3D content.
The passive 3D glasses are battery-free and so only weigh in at 16g, while there's a 3D Light Boost film covering the top LCD layer which can apparently counteract picture dimness during 3D playback. 2D to 3D conversion and TruMotion 120Hz along with DivX Plus/HD support round out the main specs.
There's also Smart TV functionality, with access to LG's premium content, as well as a motion remote. It'll go on sale globally from March 2011, pricing tbc.
Press Release:
LG's new CINEMA 3D TV rewrites the rules for 3D

With World's First "Flicker Free" Certification, LG CINEMA 3D TV Offers the

Ultimate in Smooth, Comfortable and Bright 3D Viewing

SEOUL, Feb. 16, 2011 — LG Electronics (LG) today announced the Korean release of its new CINEMA 3D TV, which boasts the first third-party endorsed "flicker free" 3D images, along with more comfortable glasses, a brighter picture and a wider viewing angle. Together, these features make it more comfortable than ever for viewers to enjoy 3D content in the company of family and friends.

"Having used our expertise in 3D to address consumer concerns about 3D, such as the sometime flickery picture and unwieldy glasses, today we're ready to unveil a real breakthrough in 3D with LG CINEMA 3D TV," said Havis Kwon, President and CEO of LG Electronics Home Entertainment Company. "LG CINEMA 3D TV will be a real game changer in 3D TV, pushing 3D viewing to new heights of excitement and taking 3D technology firmly into the mainstream of home entertainment worldwide."

CINEMA 3D TV's outstanding 3D viewing experience begins with its Film Patterned Retarder (FPR) technology, which optimizes the separation of images for the left and right eye. Those images are then matched up with CINEMA 3D glasses specially designed to receive each image, creating an outstandingly smooth 3D picture.

The resulting picture has earned CINEMA 3D TV "flicker free" certification from Intertek and TÜV, two world-renowned certification agencies based in Europe, making it the world's first 3D TV to receive the designation. With such a smooth picture, the Cinema 3D TV practically eliminates the feelings of dizziness or eye fatigue that could occur with previous 3D TVs, meaning viewers can enjoy 3D content for longer and in

greater comfort.

The Cinema 3D TV also comes with comfortable and lightweight 3D glasses. Tipping the scales at just 16 grams, the glasses have no electrical parts, so they are free of electromagnetic waves and never need to be recharged. And because the CINEMA 3D TV's glasses don't need to be synced or shuttered, they ensure CINEMA 3D stays entirely free of onscreen flicker.

Further ramping up the picture quality is LG's 3D Light Boost, a thin film covering the CINEMA 3D TV's screen that ensures 3D images are shown at full brightness. By counteracting any dimness that can sometimes occur with 3D content, 3D Light Boost creates brighter, clearer images for a superior 3D viewing experience.

Thanks to its wider viewing angle and flexible viewing positions, CINEMA 3D TV is ideal for watching 3D with big groups of friends or family, while sitting or lying down in practically any spot in front of the TV.

Besides superb picture quality in 2D and 3D, CINEMA 3D TV boasts all the advantages of LG's Smart TV technology. With its simple Home Dashboard and Magic Motion Remote Control, LG CINEMA 3D TV makes it easy to access a full array of premium content via top global providers, the best in locally sourced shows, and the growing range of LG Apps designed specifically for use on its Smart TVs.

Following its Korean release, LG CINEMA 3D TV will be rolled out globally from March.

LW5700 Specifications:

• Light and Comfortable Glasses

• 3D Light Boost

• Wide Viewing Angle

• Smart TV

• DLNA/WiFi/DVR ready

• 2D to 3D conversion

• LED Plus

• Local Dimming

• TruMotion 120(100)Hz

• DivX Plus/HD

• Smart Energy Saving Plus