LG BD690 Blu-Ray Player First To Get Wi-Fi Direct Certified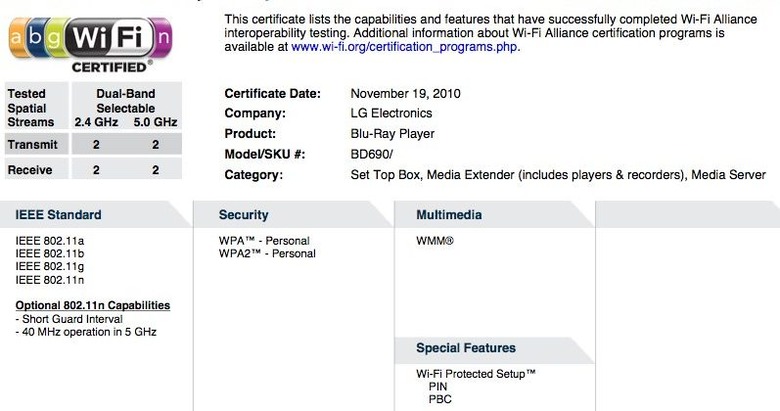 LG's BD690 Blu-ray player has become the first A/V device to be Wi-Fi Direct certified [pdf link], meaning the unit will presumably be able to send and/or receive content between other WiFi-enabled devices. That means WiFi HDTVs, tablets and notebooks, which should significantly remove complexity for home entertainment networks.
Wi-Fi Direct allows for straightforward point-to-point connection of devices using WiFi, greatly exceeding Bluetooth range and supporting files, content and multimedia with WPA2 security. Only one device need be Wi-Fi Direct compliant, too, which means that even if the BD690 is the only such device in your home, it should be able to establish connections with other, non-certified hardware.
Hardware details for the LG BD690 are unknown, though thanks to the certification it's at least confirmed to have WiFi a/b/g/n and support for WPA and WPA2 encryption.
[via Zatz Not Funny]