LG Arena KM900 official: 3G, touchscreen & heavy multimedia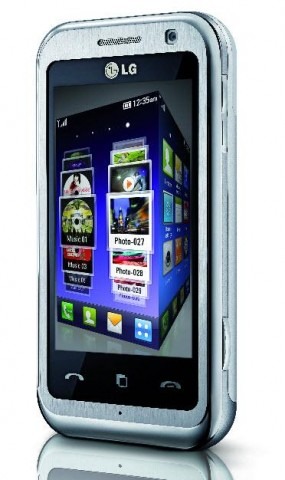 After details leaked last week, and LG themselves teased the device's existence, the company has finally come clean and announced the LG Arena KM900.  The touchscreen handset will officially debut at Mobile World Congress in a week's time, but we now know that it will feature 7.2Mbps 3G HSDPA, WiFi, A-GPS and the company's new 3D S-Class User Interface.
Full specs are unconfirmed at present – we're promised them at WMC – but LG have revealed that the Arena will feature both Dolby and DivX capabilities for "audio and video technologies never before seen on a mobile phone."  The S-Class GUI uses an animated cube layout for four customizable home screens, as well as 3D graphics.  Going on what has leaked previously, though, we're expecting a 5-megapixel camera, 3-inch WVGA 800 x 480 262K color touchscreen, Mobile TV capabilities and an FM radio.
The GUI certainly looks different from the leaked image last week, which – given how much that resembled a certain Apple handset – can only be a good thing.  We'll know all about the LG Arena KM900 next week, when SlashGear brings you all the latest news from MWC in Barcelona.
[Thanks Alex!]
Press Release:
ARENA, LG's Fully Loaded Flagship Handset Debuts at MWC 2009

Seoul (Korea Newswire) February 08, 2009 11:07 AM — LG Electronics, a worldwide technology and design leader in mobile communications, announced today the launch of its new flagship mobile phone for 2009, LG Arena (LG-KM900). This fully loaded multimedia phone with LG's innovative and dynamic 3D S-Class User Interface will be on hand at the Mobile World Congress 2009 in Barcelona.

LG ARENA's groundbreaking 3D S-Class UI was specifically designed to be a more fun and engaging gateway to an amazing multimedia environment. A cube-based layout provides four customizable home screens for direct access to all features. Music, movies, pictures and more are within reach, thanks to intuitive, touch-based 3D menus. The rich 3D graphics give S-Class a life-like look that makes it natural and easy to navigate.

"The direct, intuitive and dynamic S-Class UI will be unlike anything that has appeared on a mobile phone before. With rich 3D graphics, touch sensitivity and exciting multimedia capabilities, it will truly make ARENA a fully loaded multimedia phone," said Dr. Skott Ahn, President and CEO of LG Electronics Mobile Communications Company. LG ARENA will feature audio and video technologies never before seen on a mobile phone. LG took great effort to ensure that its 2009 flagship delivers an exhilarating multimedia experience, including features aided by Dolby and DivX technologies. LG ARENA will also include enhanced internet connectivity with HSDPA 7.2 networks, Wi-Fi, A-GPS and far more. LG will announce more specifics about ARENA and its features a long with some surprises during a press conference at the Mobile World Congress.

About LG Electronics, Inc.

LG Electronics, Inc. (KSE: 066570.KS) is a global leader and technology innovator in consumer electronics, home appliances and mobile communications, employing more than 82,000 people working in 114 operations including 82 subsidiaries around the world. With 2008 global sales of USD 44.7 billion, LG is comprised of five business units – Home Entertainment, Home Appliance, Air Conditioning, Business Solutions and Mobile Communications. LG is the world's leading producer of mobile handsets, flat panel TVs, air conditioners, front-loading washing machines, optical storage products, DVD players and home theater systems.

LG Electronics Mobile Communications Company is a leading global mobile communication and information company. LG creates handsets that provide an optimized mobile experience to customers around the world with its cutting-edge technology and innovative handset design capabilities. Increasingly, LG is pursuing convergence technology and mobile computing products. LG will continue to take leadership in the mobile communication environment with stylish designs and smart technology. For more information, please visit www.lge.com.