LG Arena KM900 gets 3D GUI video demo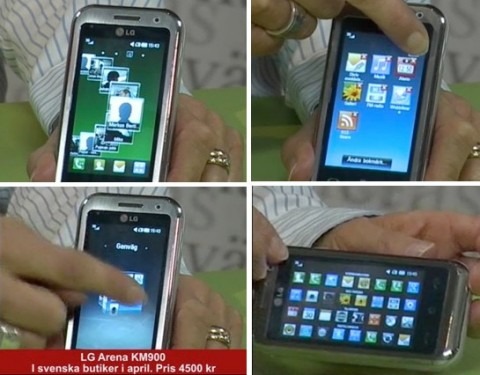 The LG Arena KM900, which the company officially announced over the weekend, has appeared on a Swedish web-TV show, flaunting its new 3D S-Class UI.  The smartphone has a 3-inch, 800 x 480 pixel WVGA touchscreen, and LG are particularly proud of its multimedia capabilities, which include DivX and Dolby technology and a dedicated media chip.
It has to be said, the interface is better in some places than others.  The 3D rotating cube is an interesting way of offering multiple, customizable home-pages and presenting a lot of information in a clean way, but other screens just look cluttered and overwhelmed by multiple tiny icons.  According to the interview, the LG Arena KM900 will be available in Sweden come April 2009, priced at 4,500 krona ($535).
Unfortunately we can't embed the video, so you'll have to go here (and make sure you don't have a voracious pop-up blocker) to see it.  Oh, and it's in Swedish, which may present a problem to those of you who don't, well, understand Swedish.
[via Engadget Mobile]