LG announces Super UHD LCD TV line with Nano Cell technology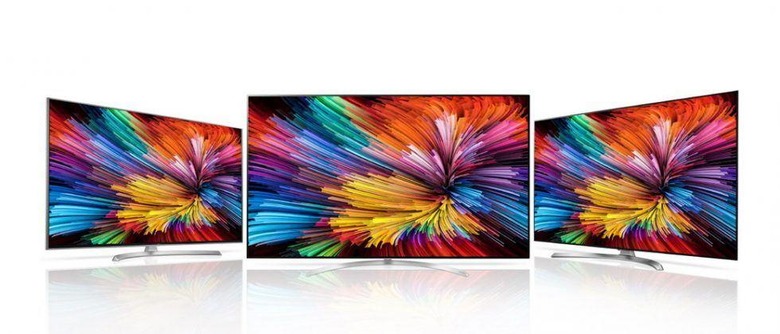 LG wants to become the king of the LCD TV hill, announcing today a new line of Super UHD LCD TVs. There are three 4K TVs in this new line – SJ9500, SJ8500 and SJ8000 – and all of them use LG's Nano Cell technology. Nano Cell works in tandem with other features like HDR to provide the best picture possible, with accurate colors that don't fade as much when your viewing angle changes.
In fact, LG's announcement says that there's "virtually no color difference" for viewers sitting at 60-degree angle from the TV, which is impressive if such a claim holds up under further scrutiny. "LG Nano Cell dramatically reduces instances of colour fading, image instability and other color degradation issues," the announcement reads. "Nano Cell technology also reduces on-screen light glow to maintain high picture quality even when the screen is surrounded by intense ambient lighting."
Taking things one step further, LG has teamed with Technicolor to ramp up the color accuracy beyond what Nano Cell technology can do on its own. These new TVs will have a feature called Technicolor Expert Mode – though it doesn't sound like this feature will be available at launch, LG says it's coming later on in 2017, and will offer the "most accurate colors possible" when it eventually arrives.
Active HDR with Dolby Vision functionality is also present in these TVs, allowing them to support a range of HDR technologies. At launch, support will include Dolby Vision, HDR10, and Hybrid Log Gamma, with Advanced HDR by Technicolor being added later on down the road. Add to all of that the latest version of LG's webOS platform and the fact that the 55-inch SJ9500 is 6.9mm at its thinnest point, and it sounds like LG has developed quite the trio of 4K TVs.
Of course, seeing is believing as they say, and if you want to take a gander at these TVs with your own eyes, you'll be able to this week at CES. LG hasn't announced pricing just yet, but with the technology the company is looking to pack into these TVs, don't expect them to be inexpensive. We'll likely be hearing more about these TVs soon, so stay tuned for more, and check out our CES 2017 hub for everything from the show floor.