In case you haven't been following along with the latest and greatest TVs, the hottest new thing is 4k. Also being called Ultra HD for its eye-numbing ultra-high def resolution of 3,840 x 2,160 pixels. Back in late October LG launched their first 4K TV in the US, the 84-inch $20,000 TV and we got a few quick pictures of it in action.
Here at CES 2013 the brand new LG 84-inch Ultra HD 3D TV was taking up some much needed real estate, and LG was equipping our eager eyes with their new lightweight 3D glasses — no syncing required. The bad boy you see above is officially called the LG 84LM9600. It's really hard to explain it without you seeing for yourself. The images are exceptionally clear and so realistic I feel like I could touch them.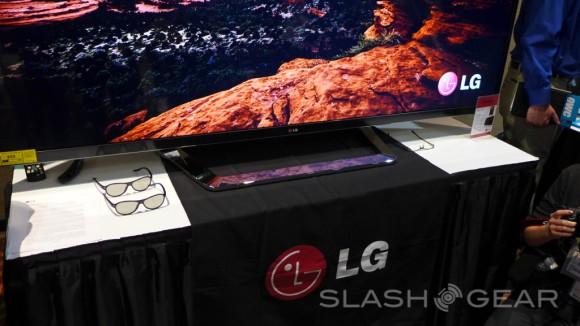 Then don't get us started on 3D. Many of our quick hands-on pictures are of the impressive TV blasting 3D images so they don't quite do it justice, but it really is something to look at. With over 8 million pixels — 4 times that of regular "HD TVs" — the Ultra HD 4K TV brings in-home entertainment to an entirely new level.
In case you missed the launch date news, this TV certainly isn't cheap. It's available as of late late 2012 at your favorite retailer for the low price of only $20,000. Or basically a nice new car. As you can imagine, most content available today doesn't come in those crazy high 4K resolutions — but they'll be available soon. Get that GoPro Hero 3 Black edition and shoot some Ultra HD video for your enjoyment. Who's buying?