LG 34UC98 Curved UltraWide and 27UD88 4K monitors launch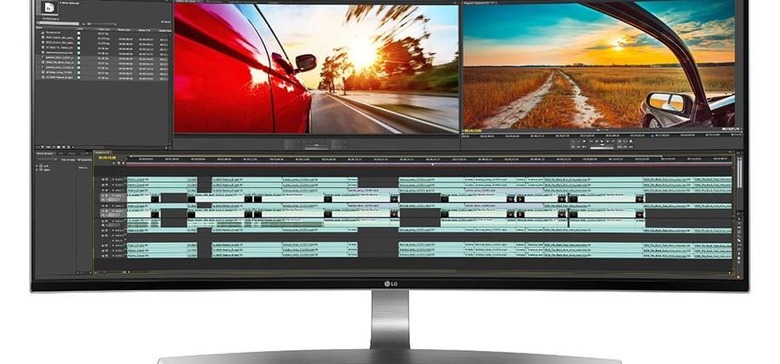 LG has unveiled a pair of new monitors that are aimed at folks wanting high resolution and all the space they can get for apps and programs. The new monitors include the 34UC98 Curved UltraWide monitor and the 27UD88 4K monitor. Both of these displays were first spied during CES earlier this year and both are now available in stores for fans to purchase.
The LG 34UC98 is listed at $1199.99 and has a 21:9 aspect ratio with a Quad HD resolution. Native resolution is 3440 x 1440 and the monitor has a 34-inch viewable image size. The color gamut for the display is over 99% sRGB and it has 10-bit color depth. Response time is 5ms GTG and the monitor has a 60Hz refresh rate. Brightness is rated at 300 cd/m2 and the contrast ratio is 5M:1. Viewing angles are 178-degrees horizontal and vertical and the monitor is treated with a 3H surface treatment that has anti-glare properties.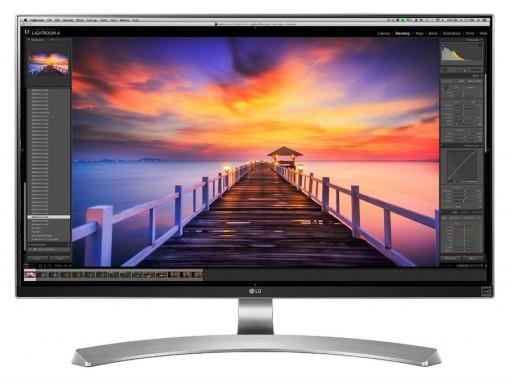 Connectivity options include a pair of HDMI 2.0 ports, DisplayPort, dual Thunderbolt 2.0, USB 3.0, and a USB 3.0 quick charge. The monitor does support picture-in-picture mode. It measures 32.2" x 3.5" x 14.2" with the stand and weighs 17.2 pounds with the stand. The other display is the 27UD88 selling for $699.99 and it rocks 4K resolution of 3840 x 2160.
The 27UD88 is the first DisplayPort over USB-C certified display on the market. That feature allows three functions from one port including data transfer charging, and substituting for an HDMI cable. This display has a 27-inch viewable image size and covers 99% of the sRGB color gamut with 10-bit color depth. The monitor is rated for 350 cd/m2 and has a 16:9 aspect ratio and a 5M:1 contrast ratio. Viewing angles are 178-degrees horizontal and vertical. Connectivity includes dual HDMI 2.0, DisplayPort, and dual USB 3.0 ports.
SOURCE: LG