Leyio Personal Sharing Device: exchange profiles, media & more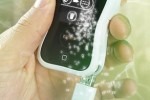 Leyio have taken the wraps off of their eponymous "personal sharing device", a compact portable file-sharing gadget that allows you to exchange business cards, profile addresses such as Facebook and LinkedIn, and digital media including audio and video files.  It uses an ultra-wideband transmitter and receiver, offering high-speed transfers of up to 10Mbps that can swap a 3MB photo in 0.3s, a short movie in around 20s, or simple images, text and links almost instantaneously.
Alternatively, files can be loaded into the Leyio's 16GB of onboard storage via its USB port.  A small, removable USB key – which Leyio call the "shuttle" – can be used to exchange information with the owner's home computer, and everything is secured with a fingerprint reader so data won't be unexpectedly sent or received.
The rechargeable battery will apparently last for a month of "normal" use, or up to six months in standby.  No sign of a specific release date beyond April 2009, never mind a price.  It sounds like a more complex, more secure version of Poken, which we saw back in December.
[via Pocket-lint]