Lexus LC Convertible Concept drops roof for more drama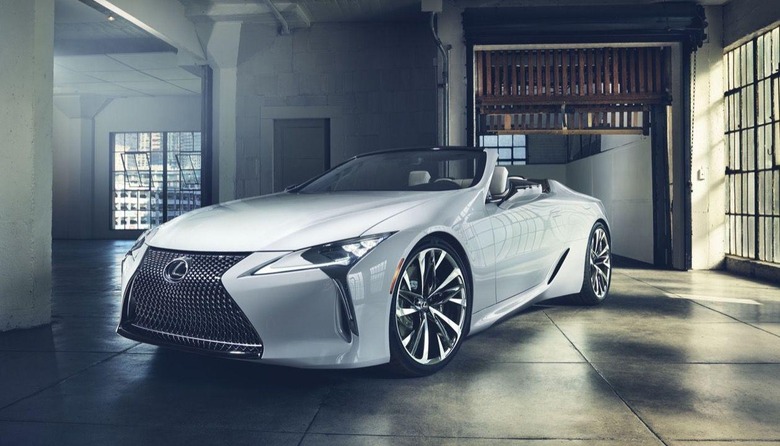 Lexus' seductive LC concept-turned-production-coupe showed us the Japanese automaker knew styling, and now the Lexus LC Convertible Concept is doubling down on that. Unveiled ahead of its official debut at the Detroit Auto Show 2019 next week, the new droptop is a tease for what we might expect next.
It's been three years since the LC coupe launched, but even today it's still a surprising sight on the road. Upending the common assumption that concept car designs can't be authentically translated to production and still keep their dramatic proportions and eye-catching styling, the two-door 2+2 proved to be Lexus' most ambitious project in years.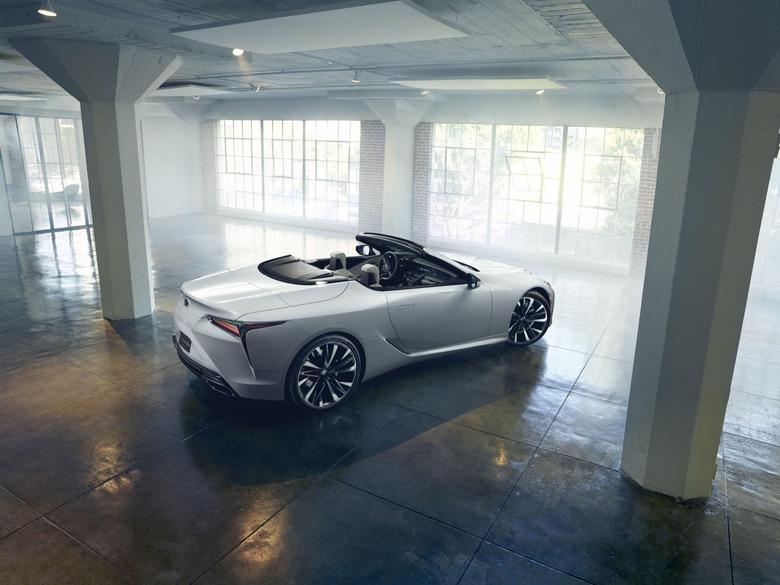 The LC Convertible Concept may edge ahead of it, though. Gone is the hard roof, replaced by a convertible top that retracts behind the rear seats. They're still present, too, Lexus insisting that the LC Convertible Concept could still accommodate four. Based on our time in its coupe sibling, we'd prefer not to be assigned to those back seats.
Arguably, though, the best place to be around the LC Convertible Concept is outside, looking at it. Unlike some coupes-turned-cabriolets, it doesn't look awkward or ill-balanced. 22-inch wheels and a wide stance help there, but really it's testament to Lexus' designers original handiwork that the whole thing works so well.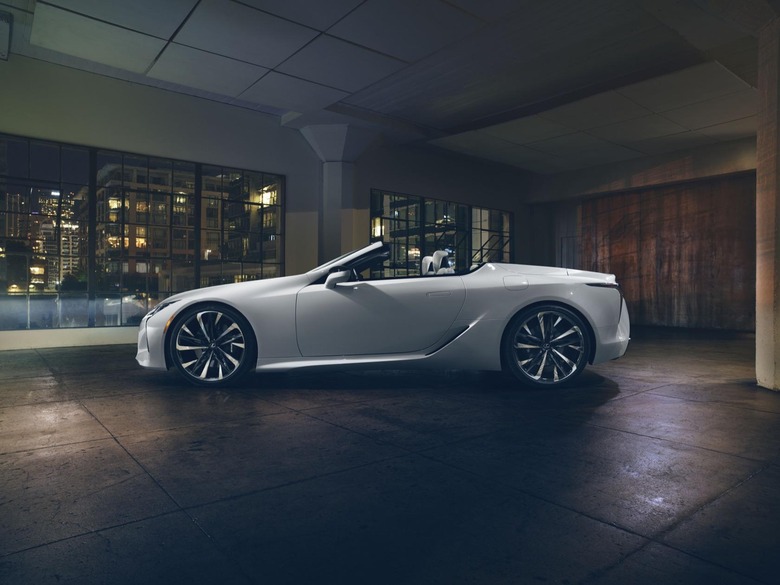 "This concept takes the unmistakable design of the LC coupe and reimagines it as a future convertible," Tadao Mori, Chief Designer of the car, explains. "It blends all the best aspects of the original coupe with the dynamic design of an open-air convertible."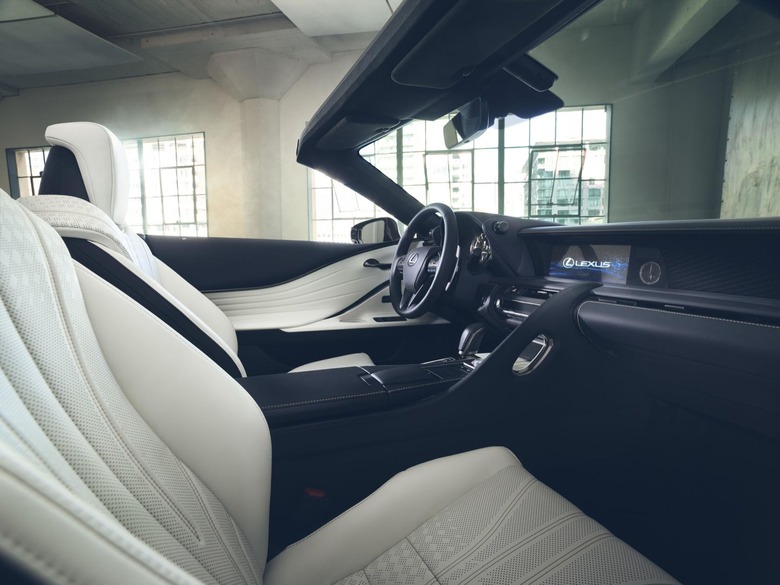 MORE 2018 Lexus LC Coupe Review
Inside, meanwhile, there's white leather with yellow accent stitching across Lexus' extravagantly bolstered sports seats. The heavily cowled dashboard accommodates a broad infotainment display, while a control dial on the upper instrumentation clicks through the different drive modes. Lexus isn't talking about powertrains, but based on the lack of badging we'd assume this is a V8 rather than a V6 hybrid.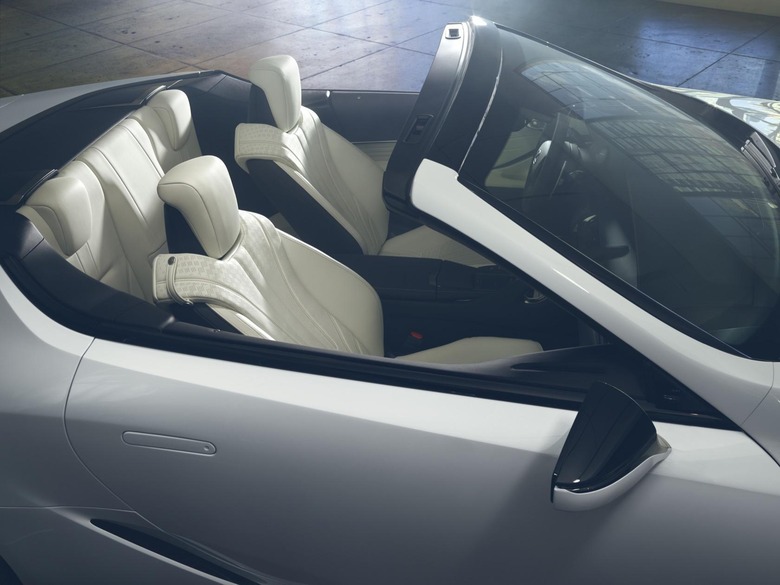 Of course, what Lexus isn't talking about is actually putting this particular convertible into production, though it's not afraid to drop some heavy hints.
"A production version of this concept would be exhilarating in many different ways," Mori suggests. "You would see its dynamic lines as you approach, hear its engine when you started it up and feel everything around you once on the road. It would engage the senses in a way that is unique and exciting every time you got behind the wheel."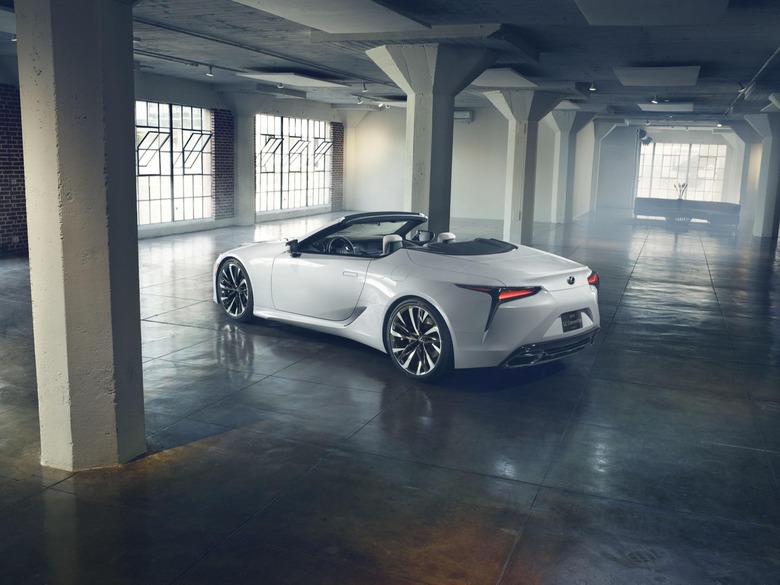 We'd be doubtful, if it wasn't for the absence of a compelling cabrio in Lexus' current line-up, and indeed the automaker's track record in taking concept cars and building production cars out of them. We'll be looking forward to getting up close and personal with the Lexus LC Convertible Concept at the North American International Auto Show 2019 next week.