Lexus 2014 IS official with F SPORT spice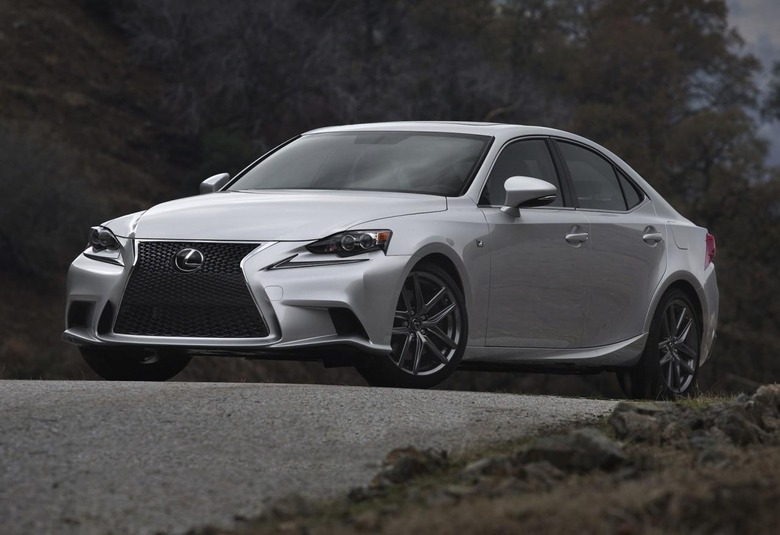 Lexus couldn't help but tease us with a little-pre Detroit show 2014 IS action last week, but the meat of the sports sedan's reveal comes today, with the IS 250, IS 350, and further-heated F SPORT variants being officially revealed. Set to hit showrooms in mid-2013, the all-new cars – including the first hybrid in the IS range, the IS 300h – feature a vast upsizing of the Lexus spindle grille, rear- and all-wheel drive options, and performance features borrowed from the company's bonkers LFA sportscar.
The IS 250 will have a 2.5-liter V6 gas engine, while the IS 360 will have a 3.5-liter V6 gas engine; select international markets – including Europe and Japan – will get the IS 300h, which will pair a 2.5-liter engine with electric motors. The IS 350 RWD borrows the IS F's eight-speed sports auto shifter, while the whole range gets a Sport mode with "G force Artificial Intelligence" (G-AI) to pick the best gear and downshift pattern depending on the G forces the car is under while cornering.

Of course, serious drivers will be eyeing Lexus' F SPORT variants, which will be offered across the 2014 IS range. In addition to changes in styling details both inside and out, the F SPORT models will get special suspension and steering tuning, and a Variable Gear Ratio Steering option on the IS 350 F SPORT specifically. 18-inch wheels of an exclusive design, and a sturdier gearbox round out the key changes.
Inside, the 3-inch longer wheelbase adds up to extra space for passengers and more room in the trunk; by slimming the front seats, too, Lexus has given those in the rear an extra 3-inches for their knees. Those rear seats also fold with a 60/40 split. As for the dash, that has touch-sensitive keys for HVAC, and touchscreen infotainment with real-time traffic and weather information, while the steering wheel gets controls for both the driver's display and the center console screen.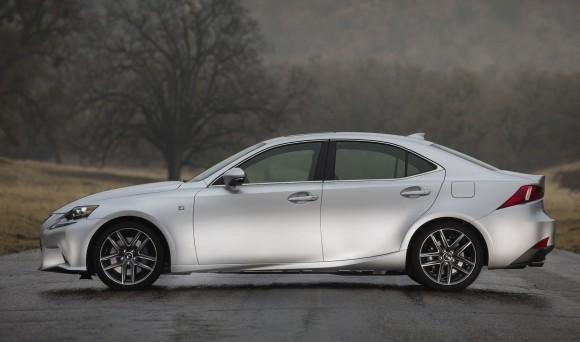 As for safety, there are ten airbags, lane-departure alerts, blind spot monitoring, rear cross traffic alert, and more, some of which are standard and others cost-options. Lexus isn't talking pricing for the 2014 IS at this stage, with the promise of numbers closer to the launch midway through the year.
[vms 5d30f7b2c52c958767e7]