Lexmark E120n Laser Printer Reviewed: Can cheap really be cheerful?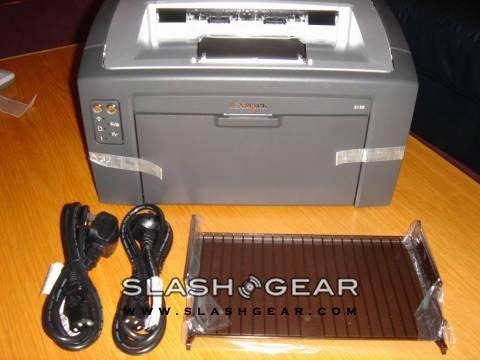 Scroll your memory truffles back ten years, flick open a catalogue of printers and tell me the cheapest monochrome laser you can find. Bowel-shattering, isn't it. And yet for the past few weeks in my lounge-cum-banquette-seating-area I've had a networked laser printer that you can pick up for less than $100 online (or under £80 in the UK); it's the E120n and it's made by the lovelies at Lexmark.
Since setting up a wireless network I've wanted to add a shared printer that doesn't depend on an attached PC being constantly switched on. I could've bought an ethernet print server and used the craptastic Dell inkjet printer we got free with a laptop, but that struggles with just one user and so opening it up to everyone's print jobs would probably provoke it to jump off the desk in an act of peripheral suicide. The E120n (not to be confused with the E120, which is identical apart from it lacks of ethernet port) seemed ideal, then, and Lexmark were kind enough to send me one to review.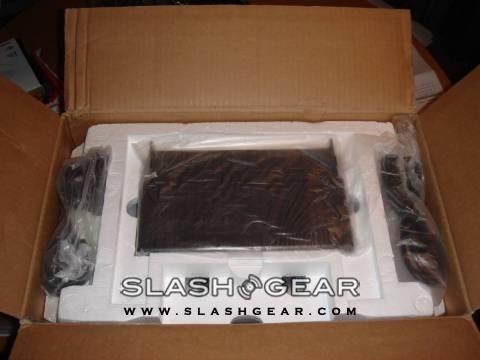 If your only experience of laser printers is the hulking monsters at work, then the E120n will come as a compact surprise. With a footprint of just 388mm by 370mm (with paper-tray fitted) it won't take up too much space on – or under – a desk, aided by the fact that it's generally quiet in standby mode, with just the faint hum of a rear fan. Paper sits at the base of the machine, taking up to 150 sheets at a time while a bypass slot can accommodate a further 15, and emerges at the top all toasty and warm.
Installing anything to do with networks can be as mentally painful as listening to Ann Coultier, so I braced myself for a three hour slog and prepared a small flask of warm beef broth. I shouldn't have worried – while the quick-start sheet appears to have been created by someone with a hatred of words, it's generally a no-brainer to plug in the mains power cord, choose USB or 10/100 ethernet (though neither cable is supplied) and switch on. Then comes the drivers; in my first attempt, having spent years paranoid of what bloatware will be strewn across my machine if I pick the "typical" installation, I went with "custom" and ended up with a machine unable to recognise the printer at all. On a subsequent computer I admitted defeat and let the wizard do its work; it went without a hitch. Going back to the first PC, having uninstalled the software mess, I ran the wizard again – curiously it recognised the E120n as being attached to the other computer rather than freely available on the network, and I needed to switch that second machine off for it to locate it correctly. I'm not sure if that was a symptom of my initial cockiness or a true problem with the wizard, but it's something to be aware of.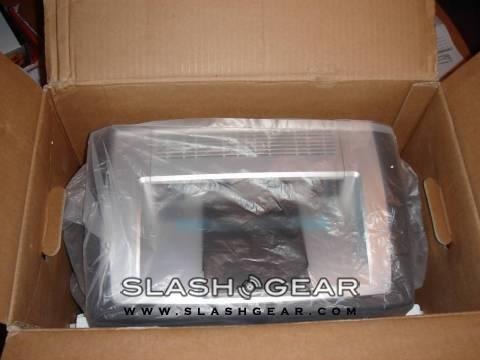 From then on it was just a case of hitting print as normal; there didn't seem to be any noticeable delay in printing via WiFi (802.11g in this case), with the E120n whirring into life just after the first page spools. Lexmark quoted "time to first page" is eight seconds, although I timed it as between 10 and 15 seconds depending on the size of the print. Their 19ppm (pages per minute) boast fell short of the mark, however, with real-world performance maxing out at around twelve to fourteen pages in sixty seconds.
You start to wonder, or at least you do if you're a suspicious wretch like I am, how Lexmark can afford to sell a full printer for the same price you could pay for another printer's toner cartridge. Well, it actually all comes down to just that; rather than include a full cartridge (that's rated to last 2,000 pages) you get a "starter" one with toner for only 500 pages. Lexmark operate a return program whereby you get a discounted cartridge on sending back the empty one, but it's still around £40 (as opposed to around £56 outside of the scheme, or upward of $85 in the US); that works out to between 2p and 2.8p a page. They've also saved money by using LEDs to indicate status rather than a display as you might find on more expensive machines; all well and good, but you'll be reaching for the instructions to decode what it's trying to tell you.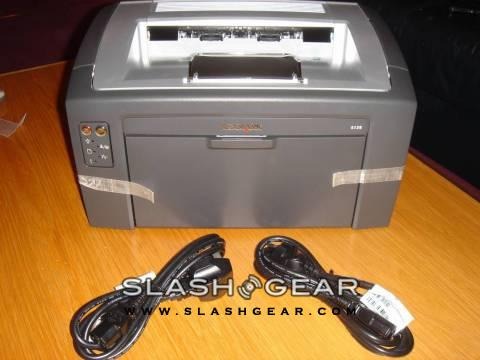 Is it worth it? Well, print quality is surprisingly high, it's relatively speedy and, if you're not a control-freak like I apparently am, it's straightforward to set up. Considering it's one of the cheaper – if not the cheapest – options for networked laser printers on the market, you have to give it some credit. As a machine for home it's certainly better at printing text than an inkjet, although performance when it comes to photos and pictures is obviously not as impressive. Just remember to budget for that first full-sized cartridge, as you'll likely be needing it sooner than you think.
Thanks to Lexmark UK for loaning me the E120n