Lexie Barnes creates brightly colored laptop bags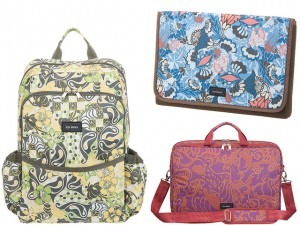 If you're looking for some feminine laptop bags without them being bright pink and stamped with Hello Kitty, then these Lexie Barnes bags are perfect. The nice thing is that she doesn't sell just one type of bag either.
She has sleeves, over the shoulder bags as well as book bags, all of which would hold your laptop nicely. She has a few different color schemes as well to give you some options. Each color scheme has several different accessory options to go with it too.
For example things like a luggage tag, or a small pouch for paint brushes, pencils or knitting needles. The laptop bags will hold a 13", 15" or 14" and a 17" or 15.4". The prices range from about $30 (for one of the smaller bags) up to $100 which is about what you'll pay for one of her laptop bags.
[via chipchick]