LeVar Burton resurrects Reading Rainbow via the iPad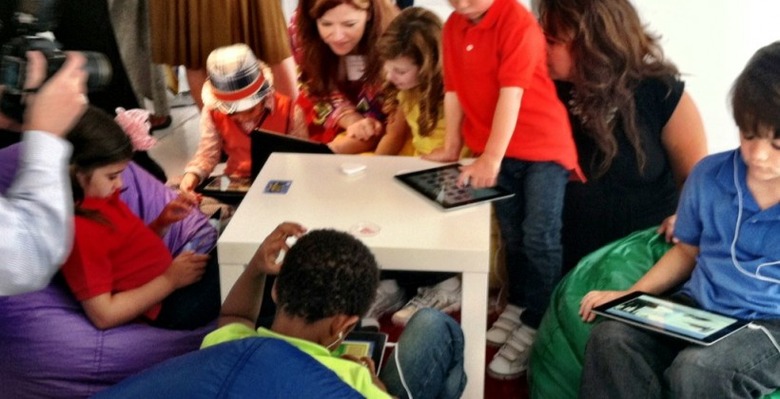 Today it's time to get happy all ye internet meme lovers, Trekkies, and LeVar Burton aficionados alike, as the legendary kids television series has been revived as an iPad app by none other than Geordi LaForge himself. Announcing his stepping on stage on Twitter for those not at the actual event, Burton spoke with a small crowd of invited press affiliates on the release of the official Reading Rainbow app this morning in NYC. This application will cost users $9.99 per month for a monthly subscription (or $26.99 for 6 months) and will contain complete books, videos, and learning experiences galore.
What we've got here, if what Burton describes is all that he makes it out to be, is a magical experience like none other currently offered in the smart device universe. As the Reading Rainbow television show brought kids back to their books, so too will this iPad application allow the next generation to get heavily invested in words once again. Image above via @Dearest_Abby
"We have reinvented [Reading Rainbow] from the bottom up to make sure that, like the television show, everything was tied together to real-word experiences. [Our goal is to bring together] fun, education, magic, adventure, and the journey." – Burton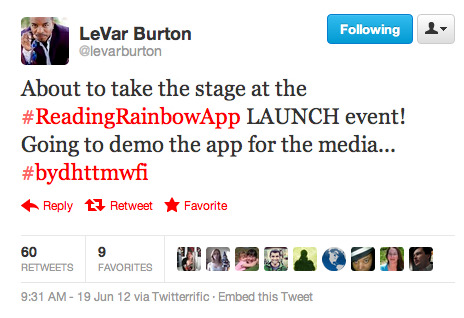 This application has been developed between Burton and developers working on this project as their first as a development group, and has indeed been built from the ground up. Books and 3rd party affiliates galore will be included in the app, all of it launching at midnight tonight.
The books inside the app have the ability to be read aloud by Burton as well as a set of hand-picked speakers (picked by Burton) and appear inside "a personalized backpack" that you (or your kid, of course) can design in-app. New books, videos, and "islands" will be added to the app "all the time" and all will be stored in an online library system where media can be checked out five at a time for offline use.
The Reading Rainbow television show started in 1983 and lasted twenty-six years before it was taken off the air in 2006. Burton let the audience know that, "when Reading Rainbow ended its 26 year run, the idea for the Reading Rainbow App was born" and assured the world today that the whole experience will be completely magical. Can't wait to see it!
[via TNW]